Annyeo Chingu –ya !
Do you want to look like your Kpop Idol or BIAS? Looking for the Number 1 shop, website or app for Kdrama like Korean clothes online?
I have got you cover !
Gone are the days when Korean clothes were tagged as street wear clothes. Today, this segment of the clothing industry has tapped an international audience as well.
Korean fashion is slowly taking a toll in the global fashion market with stars like Kourtney Kardashian also choosing to wear Korean clothes.
The time is not far when a few of the Korean brands will find their places next to D&G or Gucci.

Korean and Kpop fashion trends are giving some major fashion goals to achieve to all the fashion brands in the world.
There are a thousand number of such websites and apps selling out Korean clothes but the main catch is which one has more variety and fan's needs to fulfil.
I heard a lot from friends and even googled about this.
My best pick and an awesome one at that is – Unnie Looks (How catchy and interesting the name is!) .

Unnie Looks is a fabulous store for Kpop Inspired cloths and Korean Style with some very chic and cool Korean clothes that are simply irresistible to add to your cart.
Don't forget to use Coupon Code KDROPCART for 10% off on your shopping.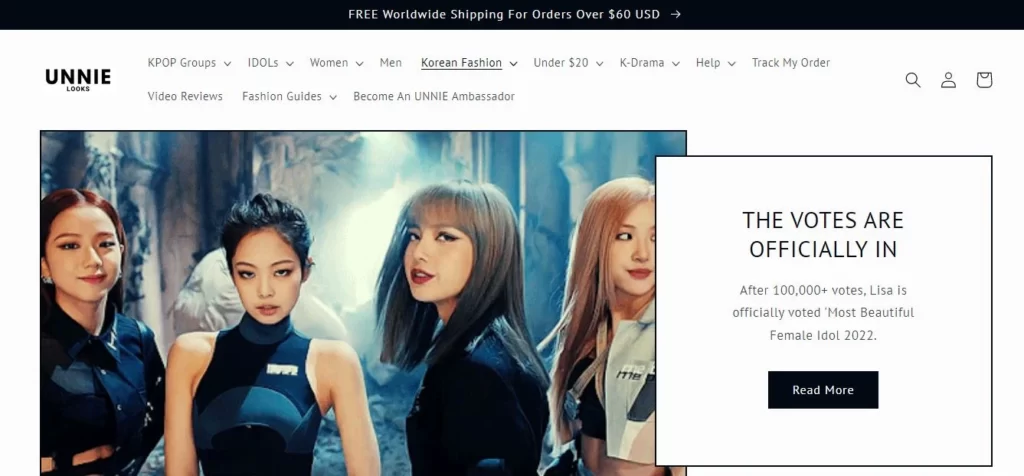 Table of Contents
What is Unnie Looks?
Unnie Looks website is an online store for all the Kpop fans out there. It appeals to the youth in a very interesting way.
It has a very user-friendly approach. Started by a sibling's team-up who have been following Korean Pop since 2011, Unnie Looks has today reached marvellous heights.
The beginning of the brand name is quite interesting because UNNIE, pronounced 'OO-nee' means older sister in Korean language. It is a sign of respect in that culture.
Their mission is to provide a layman high-quality, affordable and chic clothing so that these ordinary people can also dress up extra-ordinarily just like their Kpop idols.
They aim at providing good quality and comfortable fabric sourced from the best places in China and Korea.
While their main focus is providing Kpop-idol inspired clothes, but they have their own fashion guide too.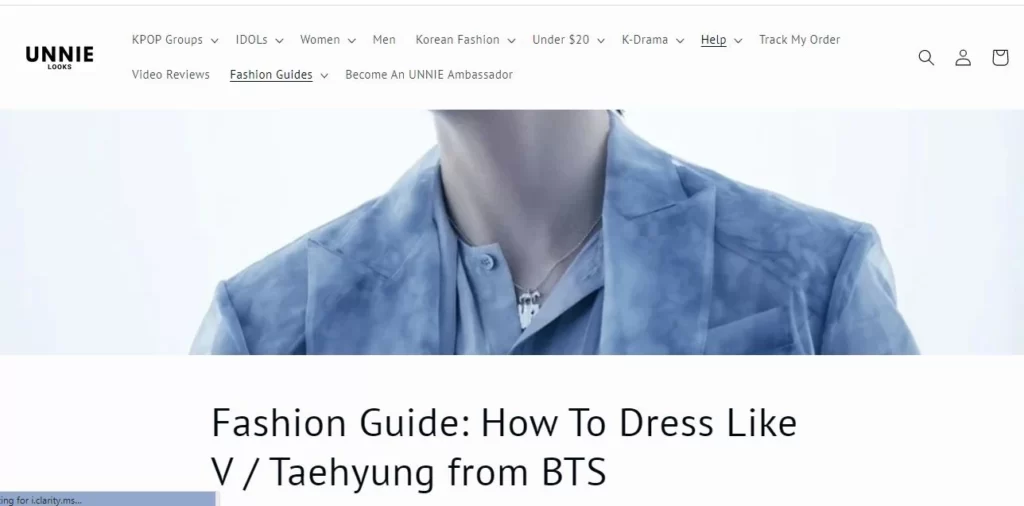 Unnie Look Review
They have a vast variety of clothes to shop from – be it girls or boys.
They have an interesting categorization of the types of clothes people might look for.
For instance, 'KPop Dramas, Men, Women, Under $20 section or Under $40 section, and many more.'
This makes the shopping experience much more comfortable and smooth. Also, easier to choose for what we are looking for.
You can straight away go to the particular idol's clothes you are looking for or choose the particular K-drama you saw last Sunday and couldn't remember the idol's name maybe.
You can also shop for solo artists if they are not in any group.
Don't forget to check Unnie Look's reviews by their customer on the website.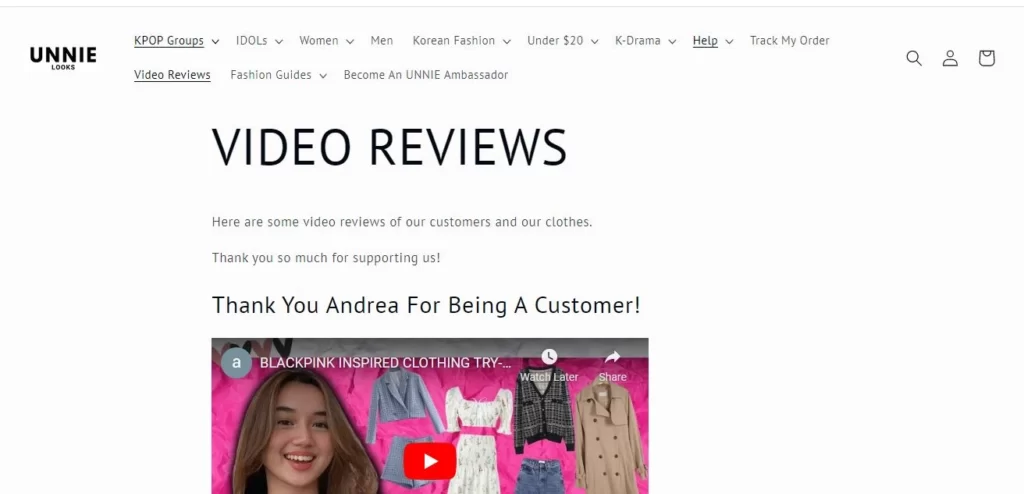 Unnie Looks Shopping Guide and Features
How to place an order on Unnie Looks?
Firstly, browse through all the verities as you may.
You may even choose their size conversion guide for clothing which is superb and so detailed!
They have a very descriptive chart ranging for people from Asian countries, USA, EU standard to France as well.
Not only this they have special tips to choose the right size.
I mean who would go beyond the limits for the customer.
The reason I loved this website!
You just have to choose what you are looking for and add it to the cart. Post that, you will fill in all your details and shipping address.
The best part about payment section is that you have many payment options from credit cards (Visa, MasterCard, AMEX etc.) to shop pay, paypal or google pay.
After paying, you can easily track your order. They will provide you with a tracking number. You have to simply put that tracking number here and viola! you're done.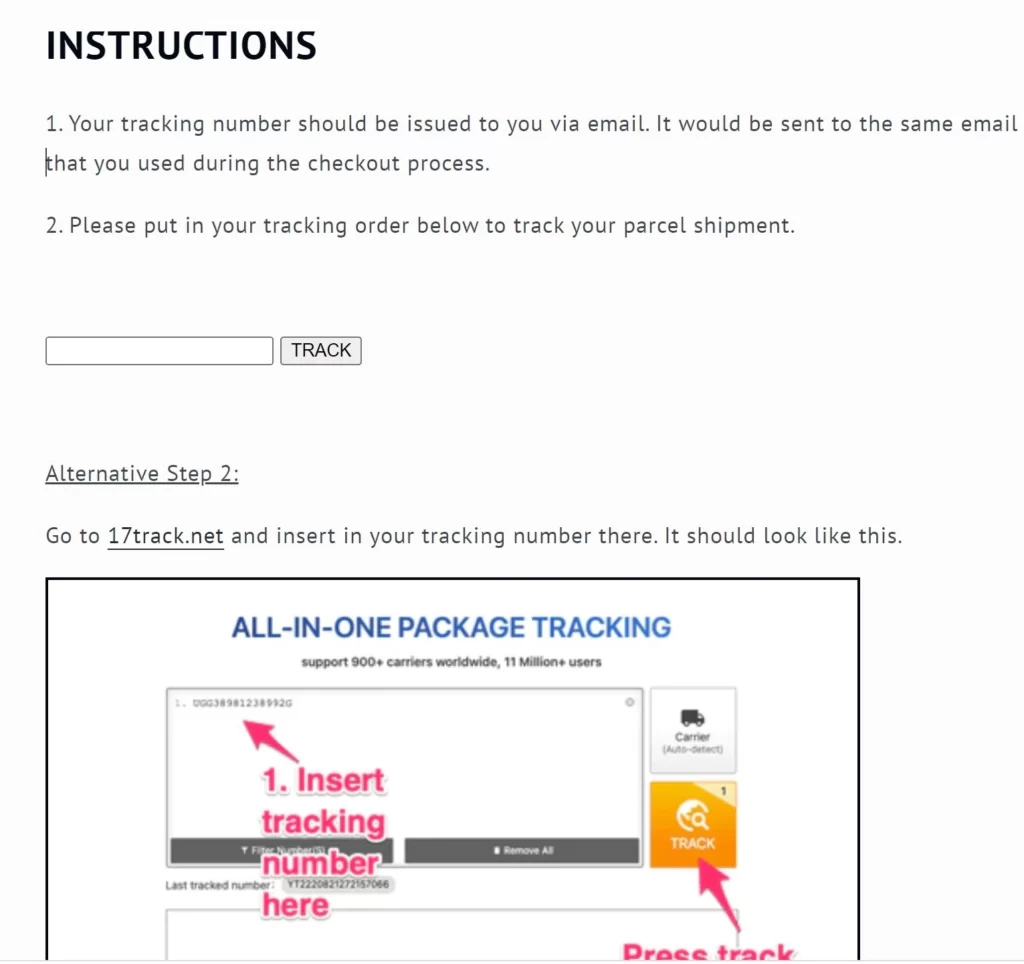 Unnie Looks Offers for Kpop & Korean fashion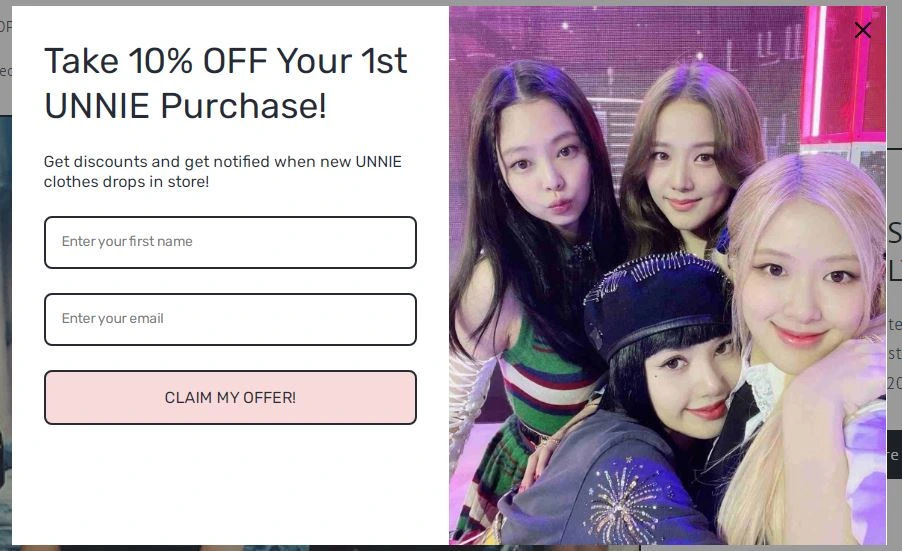 Of course, they have many lucrative offers and discounts.
They have FREE worldwide Shipping For Orders Over $60 USD.
You get 10% OFF on your 1st UNNIE Purchase
You can choose 'Under $30' or 'Under $40' if you are searching for more affordable options.
For every $100 of sales you refer, you will get $10 in in-store credits to spend on anything you want or $10 commissions for yourself through Unnie Looks the Brand Ambassador program. And they have given quite a few ways on how to do that too. Such sweet help!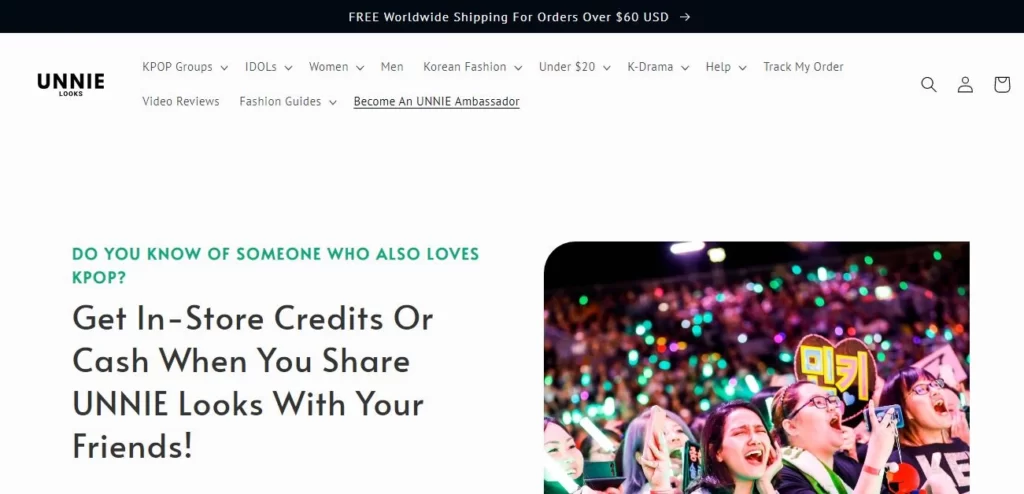 Unnie Look Refund and Exchange Policy
If there is any issue with the clothes, we can instantly contact their customer care team at [email protected] . They are quite co-operative and will respond quickly.
Fashion Chingu alternative : Unnie looks
Is Unnie Looks a Fashion Chingu alternative?
| | | |
| --- | --- | --- |
| Categories | Unnie Looks | Fashion Chingu |
| K Drama variety | It does not have as much variety. | It has a wide spectrum of K Drama variety. |
| Ambassador Programme | Yes | No |
| 'Under $20 section' | It has a section like that. | It does not have a section like that. |
| Fashion Guide | Yes they have. | No they don't have. |
Fashion Chingu Vs Unnie Looks
Unnie Look shopping categories
You can shop on Unnie Looks in below of my favourite categories –
Kpop Clothes & Korean Fashion under $20
Kpop Clothes & Korean Fashion under $40
Final Thoughts
Teenagers in massive numbers are attracted towards the Korean clothes. Be it girls or boys. Both have some unique sense of clothing in this sector.
Of late, Kpop idols have not only conquered the music industry but they also have a huge fan-following for the fashion trends they are setting as well.
Since e-commerce has taken a heavy toll on the consumers in the 21st century.
They prefer to buy anything or everything they like at the click of the button.
For good, reasonable and trust-worthy relations, what we need is a good website to shop from.
So head on to Unnie Look and Get ready to look like your favourite Kpop Idol, BIAS or Kdrama lead and flaunt your Korean style sense !

I hope you enjoyed this guide chingu-ya and it was helpful for you.
Let me know if you have tried Unnie Looks ever? Or if you want to give it a try as new experience ?
SARANGHAE 😀
Your Chingu …
Kdropper !
MUST READ
Best Shops to buy Yumi's Cell figures and merch
FAQ "Fashion Chingu Vs Unnie Looks
Which is the latest Korean clothes shop online?
Unnie Looks is the latest and the most trending website for Kpop fashion..

What is Fashion Chingu alternative?

Is Unnielooks.com trust-worthy?
Yes, Unnie Look has been trusted by millions of fans around the globe.

Which is best international shop for Kpop fashion?
Unnie Looks
Yes Style
Fashion Chingu
Daebak

Where I can buy Kpop inspired Korean Clothes online?
Visit these sites for Kpop Inspired clothes –
Unnie Looks
Fashion Chingu