Looking for K-dramas with 10 or less than 10 episodes?
Fret not, you have got to the right place!
We all love K-dramas and want to watch them BUT sometimes life gets in the way and we don't have enough time to watch long dramas. That's why binge-watching short K-dramas is everyone's fav thing, isn't it?
So, here we are sharing a list of the top 10 K-dramas with 10 episodes or less to watch in 2023. Don't worry K-drama junkies, we hear you!
All of these k-dramas were released in recent years such as 2022, 2021, etc.
So let's get into it ….
Table of Contents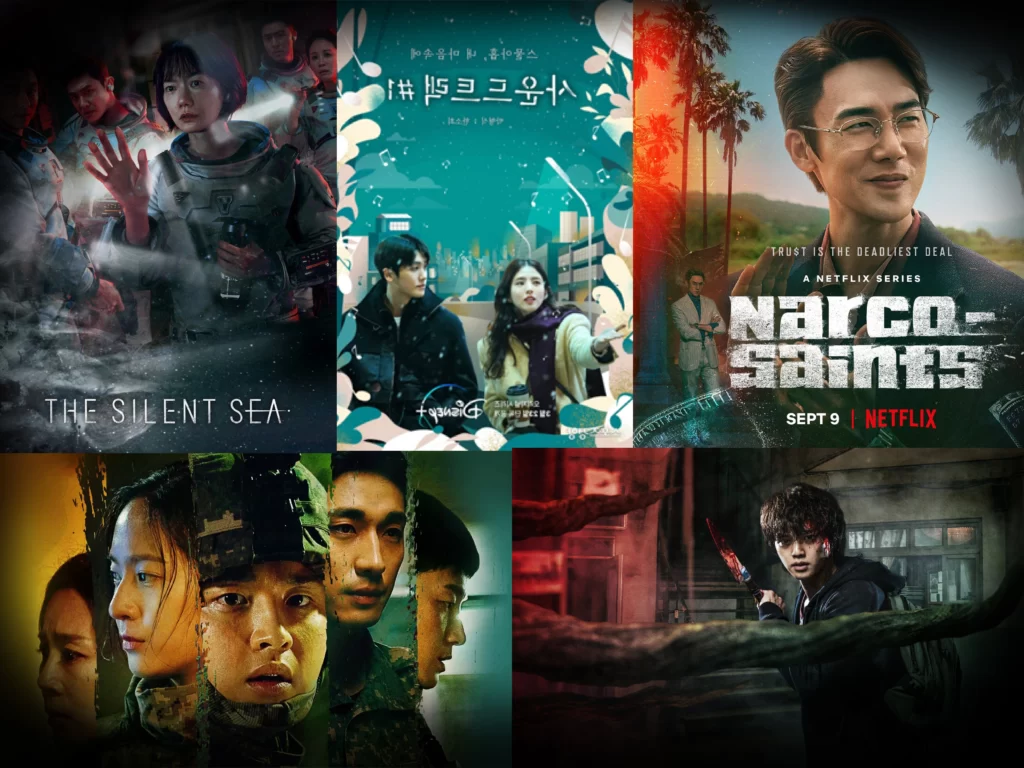 Recently Released Korean Dramas With 10 or Fewer Episodes
The Silent Sea
Cast- Gong Yoo, Bae Doo-Na
Genre- Sci-fi, Dystopian Drama, Thriller
No of episodes- 8
Summary and Review
Based on the 2014 short film "The Sea of Tranquility," Silent Sea is a sci-fi thriller series set in the future when the planet suffers from severe desertification, which causes a lack of water and food.
A team of scientists and soldiers, including the leads Han Yun-Jae (Gong Yoo), a soldier for the space agency, and Song Ji-An (Bae Doo-Na), a scientist, are selected for a special mission to travel to the moon. Their mission is to retrieve a mysterious sample from an abandoned research station to save Earth.
With its Compelling script and excellent cast, Silent Sea is a worthwhile watch. Its immersive music, unique storyline, beautiful CGI, and stunning cinematography made it a hit among the audience.
It's a must-watch for anyone who wants to watch a good sci-fi series or is a fan of Gong Yoo.
The Killer Shopping List
Cast- Lee Kwang So, Seol Hyun, Jin Hee-Kyung
Genre- Comedy, Crime, Mystery
No of episodes- 8
Summary and Review
The Killer's shopping list is a humorous mystery drama that revolves around solving a murder case and uncovering the Killer's identity based on a shopping receipt.
The series revolves around Dae-Sung (Lee Kwang-Soo), a timid man who, after repeatedly failing to crack the 9th-grade public official exam works part-time at MS Mart, owned by his mother Myung-Sook (Jin Hee-Kyung).
His girlfriend A-Hee (Seol Hyun), a police officer, is the one who investigates a murder near an apartment in the neighborhood. Dae-Sung and Myung-Sook assist her in the investigation, which they must solve based on the Killer's receipt in MS Mart.
The Killer's Shopping List is an engaging and hilarious tale worth watching when craving something funny and exciting. The drama is quick and addictive.
Sweet Home
Cast- Song Kang, Lee Jin Wook, Lee Si Young, Lee Do Hyun, Kim Nam Hee, Go Min Si
Genre- Horror, Apocalyptic drama
No of episodes- 10
Summary and Review
Based on a Webtoon of the same name Sweet Home is an apocalyptic drama set in an apartment complex where monsters begin to appear. The residents trapped inside have to fight for their survival, both from the monsters inside and those outside the complex.
The show creates a whodunit-like atmosphere, making it all the more intriguing and thrilling. The viewer is constantly on the edge because of its twists and action scenes.
The VFX team has done a commendable job as the monsters all look pretty realistic, and the detail is intricate, as the monsters each are different and not repetitive or the same as zombies. This gives the viewer a new thrill; all in all, Sweet Home is definitely worth a watch.
A Model Family
Cast- Jung Woo, Park Hee-soon, Yoon Jin-Seo, Park Ji-Yeon
Genre- Crime, thriller
No of Episodes- 10
Summary and Review
A Model Family is a 2022 crime drama about Park Dong-Ha, an ordinary professor going through a financial crisis and a broken marriage. On the verge of divorce Park Dong-Ha finds a vehicle filled with money only to soon realize that the money belongs to the drug mafia.
This discovery soon pulls him into the nasty world of drugs, and he realizes that the only way to save his family and pay for his son's heart surgery is to become a drug courier.
The ten-episode series keeps the viewer on edge with its cat-and-mouse chase; it also has tender emotional moments where the viewer can connect and sympathize with the protagonist. A model family is a good mix of thrill and emotions and ends with a bang making it binge-worthy.
Soundtrack 1
Cast- Park Hyung-Sik, Han So-Hee, Park Hoon
Genre- Romance
No of episodes- 4
Summary and Review
Soundtrack 1 is a story about two best friends who realize their feelings for each other after they start living together for two weeks. Han Sun Woo (Park Hyung-Sik), a kind-hearted photographer who is an introvert, has been friends with Lee Eun-Soo (Han So-Hee), a lyricist, for the past twenty years.
Soundtrack 1 is a tale of friendship, romance, and unrequited love that many viewers resonate with and for that reason finds a place on our sacred list of K-dramas with 10 episodes or less.
With its fast-paced storytelling, cinematography, perfectly composed tunes, and music, Soundtrack 1 mesmerizes its viewers almost immediately. The leads have wonderful chemistry that makes the romance all the more captivating. This mini-series is undoubtedly worth a watch.
My Name
Cast- Han So-hee, Ahn Bo Hyn, Park Hee-soon
Genre – Thriller
No of episodes- 8
Summary and Review
Yoon Ji-woo works for a drug gang called Dongcheonpa, whose boss, Choi Mu-Jin (Park Hee Soon), was her deceased father's best friend. Desperate to avenge her father's death, she joins the police department with the help of Choi Mu-Jin and becomes a mole for him.
She is assigned to the drug investigation unit, where Detective Jeon Pil-do (Ahn Bo Hyn) is her partner. With the help of her partner, Yoon Ji-woo uncovers the truth behind her father's death and takes her revenge.
My Name is an entertaining and intense revenge drama that has all the right elements, from action to crime to revenge. The well-written plot will keep you on the edge of your seat.
The cast delivers strong performances, and the choreography is quite good, too; the fight scenes are intense and well-choreographed. Overall My Name is a rollercoaster of emotions, action, and revenge.
Narco Saints
Cast- Ha Jung-woo, Hwang Jung-min
Genre- Crime, thriller
No of episodes- 6
Summary and Review
Based on the true story of Jo Bong-Haeng, a major drug smuggler in Suriname, Narco Saints follows the life of an ordinary businessman named Jang In-gu (Ha Jung-woo), who is pulled into the dirty world of drugs.
He is forced into a situation where he finds himself between the drug lord and intelligence agencies. Jang In-gu is forced to cooperate with the Koran NIS to catch Jeon Yo-Hwan (Hwang Hung-min)
Narco Saints is a suspense drama that has done justice to its high production value in an unimaginable way. The suspense is nerve-wracking as the viewer waits for the next shoe to drop.
Nevertheless
Cast- Han So-Hee, Song Kang, Chae Jong-Hyeop, Lee Yeol-Eum
Genre- Romance
No of episodes- 10
Summary and Review
Nevertheless is a romantic drama between a woman, Yu Na-Bi, who no longer believes in love, and a playboy with commitment issues, Park Jae-Eon. Despite being polar opposites, they fall in love and navigate their issues.
Nevertheless is a sweet drama that reels the viewer in with its strong storyline. The show was praised for its realistic portrayal of the real-life and current dating scene.
This was one of the main reasons viewers connected with the show; it's worth a watch if you are looking for heart-fluttering yet realistic romantic drama.
Search
Cast- Jang Dong-Yoon, Krystal Jung
Genre- Mystery, Military Thriller, Horror
No of episodes- 10
Summary and Review
Search is an intense drama that blends elements of military action and horror. The series follows Yong Dong-jin, a military dong-handler sergeant in the South Korean army, who is a month away from being discharged.
But his dreams of leaving the army are shattered when a bizarre murder takes place in the demilitarized zone (DMZ), and he, along with his sniffer dogs and an elite team, is tasked to search the DMZ and uncover the truth behind the murder.
However, the soldiers soon realize that whatever they are searching for might not be as human as they thought. Search is a well-crafted drama that delivers its promises of action and suspense.
Because the cast has perfect chemistry, it is worth a watch if one enjoys military dramas or is looking for some supernatural and fantasy elements mixed in a military drama.
Monstrous
Cast- Koo Gyo-Hwan, Shin Hyun-Bin, Kim Ji Young, Nam Da Reum, Kwak Dong Yeon, Park Ho San
Genre- Horror, mystery, supernatural
No of episodes- 6
Summary and Review
Created by the director of Train to Busan and Hellbound, Monstrous is a supernatural drama that follows an archaeologist turned magazine writer and Youtuber, Jung Ki Hoon (Koo Gyo Hwan), who is always on the search for strange phenomena.
Jung Ki-hoon goes to Jinyang County to research "Gwibul," a Buddhist statue possessed by an evil spirit. His ex-wife Lee Soo Jin (Shin Hyun-Bin), an archaeologist, also goes to Jinyang.
There she experiences mysterious things which make her determined to search for an explanation for whatever is happening. Apart from the ex-couple, the residents, too, begin to be haunted by the spirit possessing the statue.
Monstrous is a religious horror done well; it's crisp and doesn't beat around the bush; since it only has six episodes, it is very fast-paced, making it more enjoyable for the viewer.
Additionally, monstrous is an entertaining watch for fans of adventure and horror. It can be finished in one day or a weekend, and for that reason its the perfect choice when nitpicking K-dramas with 10 episodes or less.
Conclusion
In the 21st century, time always seems to be in short supply. But as K-drama enthusiasts, we all have to stick together and find ways to carve out time in our schedules.
With a spate of new shows every month, and platforms like Netflix and Amazon Prime taking up/commissioning new shows, there are always more K-dramas out there than we can humanly watch.
Short-length and limited episodic K-dramas are the answer. Not only are they time efficient but also squeeze quality content into smaller packets. Melodramatic, thriller, horror, sci-fi; you name it and you shall find.
Let us know if you liked our list curating recently released K-dramas with 10 episodes or less. And comment if you think we missed something.
I hope you liked it … !
Written By (Author) :-

Srihita Vanguri
MUST READ : –
10 Underrated Korean Dramas to watch in 2023
11 Best Rom-Com Kdramas of 2022
7 Short Kdramas to binge watch in one day
FAQ "Kdramas with 10 or less episodes"
What is one of the best K-dramas with 10 episodes or less? 
Sweet Home
What is the best Kdrama with 12 episodes in 2023? 
Summer Strike 
Where to watch Kdramas? 
You can watch them on DramaCool or Asianwiki, or Rakuten Viki. 
Where to watch Kdramas in India? 
You can watch them for free on Viu, DramaCool, Asianwiki, or Rakuten Viki and also on Netflix, Disney Plus, Amazon Prime, which are paid. 
What genres are the Kdramas listed above? 
Kdramas listed above belong to various genres, from romance to thriller to dystopian science fiction.