If the conclusion to this delicacy of a K-drama has been giving you a tough time, then we have prepared the perfect thing to row you through. With our 15 Best K-dramas like Bo-ra! Deborah, you can watch away and let loose the endorphins. And let our K-drama archives that soothe the soul do the rest.
Falling in love has been the subject of literature, songs, plays, news; virtually any consumable media. It is as elusive as it is ubiquitous.
The brush of someone's hair, goosebumps and skinship, heart chasing the beat as if it is in some kind of overload, smiling to yourself, waiting anxiously for the sound of your text messages, etc; the struggle is real. And no other show articulates the struggle of love as endearingly as Bo-ra! Deborah (available on Amazon Prime under the title True to Love).

Stay tuned folks, this is about to get delectable!
Table of Contents
Bo-rah Deborah: An Overview
Starring Yoon In-na in the titular role of Bo-ra, a successful author and radio dating show host, who operates in public under the pseudonym Deborah; Bo-ra! Deborah is a blend of circumstantial comedy, adversity in and healing through love, and the classic enemies-to-lovers trope with a scanner on the realism of heartbreak and heart-mend.

A popular dating coach (and successful author), Bo-ra is the "it girl" until one day her boyfriend breaks up with her. After her heart shatters into tiny little pieces, Bo-ra gets unlucky and publicly embarrasses herself, a spillover from her deteriorating love life that undermines her reputation as a dating coach.

And as if all of this wasn't enough, a man whose worldview and life philosophies are polar opposite to her own was witness to all this (her lowest points in life, so to speak). But as their encounters multiply and they enter a working relationship, they soon become each other's safe space; confidants of the most wholesome kind.

The show bets big on placing our main leads into each other's paths, and introduces both hilarious and pensive moments of encounter between the two. It's ultimately telling the oldest story in the world: of falling in and out of love, but with character complexity.

15 Best K-dramas Like Bo-ra! Deborah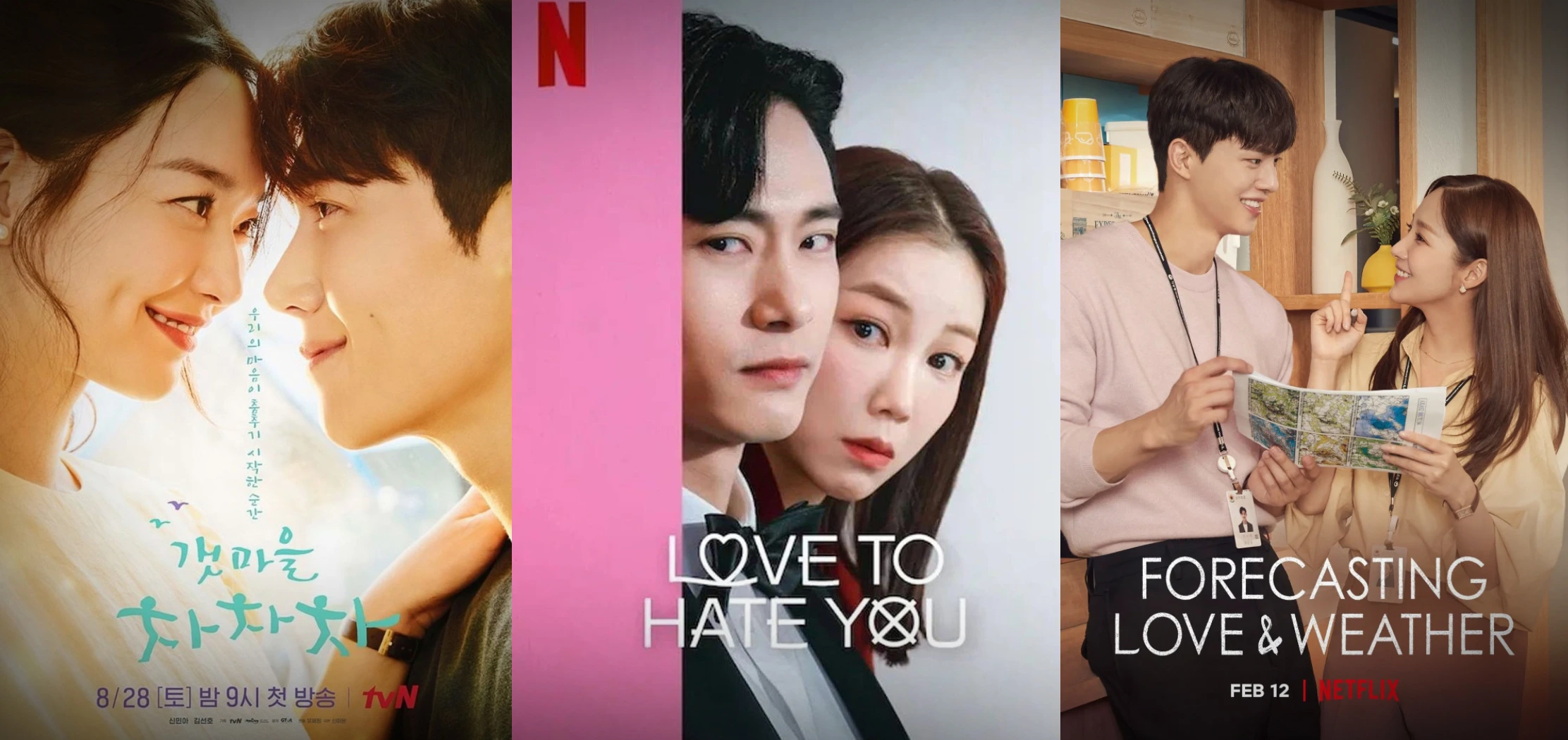 As Bo-ra said in the show, no formula or plan for love is foolhardy and foolproof, with guaranteed success. And while there is no arguing with that, we do have something foolproof for you i.e. our following recommendations on K-dramas like Bo-ra! Deborah.
Sh**ting Stars (2023)
Cast: Yoon Jong Hoon, Young Dae, Kim Yoon Hye, Lee Sung Kyung, Park So Jin
Genre: Romance, Melodrama, Comedy
Number of Episodes: 16
Sh**ting Stars is a feel-good K-drama that is remarkably similar in theme and temper to Bo-ra! Deborah.

Here as well, you have two main leads that have a history of adversity and dislike. Another similarity is the fact that both shows feature a main lead in the shoes of a character who is under public scrutiny due to their occupation.

In the former, it's Bo-ra herself with her influencer-like social role, and in the latter, it's the male lead's character (an actor by profession).

Sh**ting Stars follows the ins and outs of an entertainment company that manages different artists. Our protagonists work here, so it becomes an office romance of sorts. But the two-and-fro, flirtatious banter, and history between the main leads make this drama one hell of a ride.

Our protagonists in Sh**ting Stars go from being at each other's throats to being in love, similar to how our protagonists in – Bo-ra! Deborah – click after a period of mutual dislike of each other. If awesome soundtracks and word foreplay is your thing, this one won't disappoint you. Dive right in!

Bonus: Park So Jin plays the best friend of the female protagonist in both Sh**ting Stars and Bo-ra! Deborah. Where you at, Girl's Day stans? While you are at it, don't forget to cruise through our Kpop archives that will make your life better !
Hometown Cha-cha-cha (2021)
Cast: Lee Sang Yi, Kim Seon Ho, Lee Bong Ryun, Sin Min Ah
Genre: Life, Romance, Comedy
Number of Episodes: 16
No two people could be simultaneously more adversarial and sweet than our dimple couple in this K-drama. Set in the seaside town of Gongjin, this drama pits our main leads against each other.

But over time friction becomes fondness. Both protagonists harbor deep wounds and heal through their affection/understanding for each other, friendships, and the people around them.

Similar to Bo-ra! Deborah, Hometown Cha-Cha-Cha features characters of the protagonists who tend to have a mean streak and got off on the wrong foot with each other. However, in both shows, it is the romance between people (which starts with hostility) that serves as the guiding light.

Both shows also have engaging side characters and have given them their stories that allow viewers comfortable space away from the conundrum of the main overarching romance. This drama can be addictive and leave you wanting more.
Do not fret, in case this one gets feeling all the feelings, take a look at Other Korean Dramas like Hometown cha cha cha. We have all been there!
So I Married an Anti-fan (2021)
Cast: Choi, Soo Young, Hwang Chan Sung, Kim Min Gue, Choi Tae Joon
Genre: Romance, Comedy
Number of Episodes: 16
We think the name gives this one away. There is animosity here, and not your typical rivalry that is at times comedic relief.

The protagonists have a poor first encounter at a party. One is a reporter, the other is a star; public life and scrutiny are a feature of both their lives. And ties amicably with that element in Bo-ra! Deborah.

A turn of events sets them on each other's path at a reality TV Show. Like in Bo-ra! Deborah, the protagonists in – So I Married an Anti-fan butt heads – and try to one-up on the other. However, this gives way to affection, checking all the boxes of an enemies-to-lovers trope.

This drama had diverse reactions from the consumer base and guarantees stimulating some or the other kind of relevant conversation as audience members. And we are here for it.
Love to Hate You (2023)
Cast: Kim, Ok Bin, Go Won Hee, Lee Joo Bin, Kim Ji Hoon
Genre: Romance, Law, Comedy
Number of Episodes: 10
Bo-ra! Deborah is a perfect match to Love to Hate You. Rom-com that hits you in the feelings. Check! Dislike and animosity tip away into understanding at the end. Check! A female lead that works through her issues. Check!
The main protagonists in Love to Hate You are from different worlds, that eventually collide and merge, similar to Bo-ra! Deborah. The plot of this drama is a hearty mix of fun, and funny, moments of mutual hate, moments of mutual attraction, and recovery.
Love to Hate You follows the story of Yeo Mi Ran, a badass motorbike-driving lawyer who'd rather compete with men than fall in love with one. Her encounter with renowned actor (the kiss whisperer, so to speak) Nam Kang Ho, who abhors putting his trust in women, forms the premise of our plot.
What ensues is a battle of hearts, minds, emotions, and everything in between. The tone of the show is exceedingly similar to Bo-ra! Deborah, even in the small things. For instance, like Soo Hyuk in the latter, the male lead actually respects Yeo Mi Ran in this drama. If that's not sexy, we don't know what else is.
Both shows do a good job of showing how one's life experiences shape us and our worldview. With a mutual distrust and dislike of the other gender, extreme opinions, and contrasting perspectives, our protagonists not only follow the formulaic enemies-to-lovers trope reminiscent of Bo-ra! Deborah, but also make it graceful and entertaining just like the latter.
Cheese in the Trap (2016)
Cast: Lee Sung Kyung, Park Hae Jin, Kim Go Eun, Seo Kang Joon
Genre: Romance, Drama, Life
Number of Episodes: 16
The class difference between the main leads in this one is apparent and inserted into the very premise of this drama. Inasmuch then, the oppositional dynamic in Cheese in the Trap, much like in Bo-ra! Deborah, adds a layer of tension, uncertainty, and angst to the relationship between the main leads.

Cheese in the Trap has had a difficult relationship with the audience. The male protagonist has an almost sinister side to him, a shade darker than mean. While the show tries to articulate this as a protective response to his own internal schemas and childhood complexes, it is the romance that turns out to be truly redeeming in the end.

Its enemies-to-lovers with a twist, situated in student life, with a slight power dynamic in place thanks to the senior-junior relationship at work. Though this one is a little on the older side, if looking for something more recent, look out for Recently Released Kdramas With 10 or Less Episodes in 2023 .
Touch Your Heart (2019)
Cast: Son Sung Yoon, Oh Jung Se, Yoo In Na, Lee Dong Wook
Genre: Romance, Drama, Comedy, Law
Number of Episodes: 16
What happens when you bring together people from completely different worlds together? They contradict and challenge everything about the other.

But then they slowly fall in love. And they fall hard. Yoon In-na plays an actress with a public reputation. She reunites here with Lee Dong Wook (much to the relief and joy of Goblin fans).

Her character embarks on a journey of falling in love with someone who is her complete opposite. The tone of Touch Your Heart salsas is dangerously close to that of Bo-ra! Deborah. You have bickering in-car scenes, swooning over phone texts between the protagonists, and love that makes you giddy.

Both shows deal with themes of heartbreak, love, being lovesick, and staying true to yourself. If you have ever been in love this drama is a no-brainer. If you are in love with the very idea of love, more so then.

We are rooting for you.
Dali and the Cocky Prince (2019)
Cast: Yoonwoo, Kim Min Jae, Park Gyu Young, Kwon Yool
Genre: Romance, Comedy, Drama
Number of Episodes: 16
Opposites attract is an old romance trope. But Dali and the Cocky Prince proves that old may be the trope, but it is timeless nonetheless.

Like Bo-ra! Deborah, this drama sets apart our protagonists as opposites. But Dali and the Cocky Prince takes it up a notch. The differences in personality, life experience, and worldview spill over into class, educational and family background.

Dali was born with a silver spoon and faced economic adversity in the aftermath of her father's death. Her cultured upbringing never meant that she slacked off. She honed her skills and put her education to use.

Moo-hak on the other hand worked up his way in the world. His rude, crass, and "uncultured" character tones put him in stark contrast to Dali. After a series of coincidental occurrences, these two end up on opposite sides of a debt obligation.

Contrast blooms ultimately bloom into care and affection—a tale of a true lady and a man with a heart of gold. Art and food fans, this one is painted with a whiff of both! If watching this show makes you hungry for some of the best and most economical outfits to wear as we swoon with our favorite K-drama characters, here you go!
Boys Over Flowers (2009)
Cast: Kim Bum, Kim Hyun Joong, Lee Min Ho, Gu Hye Seon
Genre: Romance, Youth, Drama, Romance
Number of Episodes: 25
F4 is something of a legend, as is this drama. With various renditions (lest we forget Meteor Garden, F4 Thailand, and the Japanese rendition that started it all), Boys Over Flowers is like the prehistory of every enemies-to-lovers K-drama of this decade.

Opposition, animosity, and contrast between the main leads are palpable in this one. So, Bo-ra Deborah enthusiasts, if that is the similarity you revere, this one is a hell of an easy choice.

The binaries of class, social background, and experience are some of the oppositional positions that the protagonists have to overcome in favor of chasing the thing we call romantic love. The true first love at an impressionable age as a student has purity. And because romance can be catchy, we are going to put forward our selection of Best Romance Korean dramas in case you wanted a wider selection!
Back to the drill, Boys Over Flowers makes you angry, angsty, and giddy and makes you feel all kinds of butterflies. As an old K-drama, it has its own issues and criticisms of the tropes used. The trick is to situate the show in its context and be constructive commentators. More power to you people!
Our Beloved Summer (2021)
Cast: Kim Sung Cheol, Choi Woo Shik, Kim Da Mi
Genre: Romance, Drama, Life
Number of Episodes: 16
If the wordplay and bickering from Bo-ra! Deborah had you rolling your eyes and grinning from ear to ear, Our Beloved Summer is the perfect feast.
Here, you have two people, opposites in their academic performance (the girl is a top student and the guy is at the bottom), who are pitted against each other when they are made to co-ordinate for a documentary. This docu-experiment brings them closer: from banter to beloved love.
Without giving away much, it is possible to reveal that they go their separate ways, only to have fate bring them back into each other's lives, again, with another documentary.
Their animosity, old memories, and hurtful comments they say and said to each other, all overlap and result in visible tension. The ensuing push-pull, clash of personalities, and the inevitability of the protagonists finding their way to each other again echo the emotional bond and its depth from our leads in Bo-ra! Deborah.
Both shows feature a male and female protagonist each with contrasting personalities, who beat the odds, and their own negative emotions and grow as people in the process. While this show can be a tear-jerker, it is also heartwarming. When you are done with our recommendation on this list, you can breeze through Kdramas like Our Beloved Summer recommendations to whet the appetite further!
Cafe Minamdang (2022)
Cast: Oh Yeon Seo, Lee Mi Do, Kwon Soo Hyun, Kang Mi Na
Genre: Romance, Mystery, Comedy
Number of Episodes: 18
Is there something irresistible about falling for someone who is also investigating you?

Alternatively, should you fall in love with the man you are investigating, someone who was convicted for fabricating evidence in his best friend's murder?

We dunno, but leave the answer to Nam Han-joon and Han Jae-hee from Cafe Minamdang. With a blend of comedy, melodrama, psychological thrill, a serial killer on the loose mystery, and romance; Cafe Minamdang packs quite the punch.

The characters of Han-joon and Jae-hee should be enemies. The former, a brilliant profiler, was wrongfully convicted of fabricating evidence in his best friend and Jae-hee's brother Han Jae-jung's murder case.

The killer is still at loose. In the quest to uncover the reality of Jae-jung's death, our two protagonists come together and discover not just a nexus of corruption and collusion but also their love for each other. They come to understand each other, and the pain that they have been going through.

Like Bo-rah! Deborah, this show dips its toe into the enemies-to-lovers trope. Also common to both dramas is the presence of solid secondary characters on whom the protagonists tend to rely and turn to for advice.
Suspicious Partner (2017)
Cast: Kim Ye Won, Ji Chang Wook, Choi Tae Joon, Nam Ji Hyun
Genre: Mystery, Law, Romance, Comedy
Number of Episodes: 40
If the series of unfortunately embarrassing incidents that our Bo-ra had to endure had you flinching and wishing that she catch a break, then Suspicious Partner is your cup of tea. Do not hesitate to sip on this drama.
The female protagonist (a justice department intern) is as prone to the unfortunately embarrassing moments of life as Bo-ra. The ultimate conclusion of which comes when she falls prey to a false accusation of murdering her ex-boyfriend. Enter the male protagonist, a prosecutor who does get her off the hook. But he is no knight in shining armor without any qualms.
After facing his life do downhill and his reputation take a hit, the animosity and dislike come effortlessly to him. The rom-com mood is frizzled with thriller, conspiracy, and law world setup. The two protagonists here fall into each other's worlds as their work does, much like Bo-ra! Deborah. There is tension and push-pull worth giving this try.
Hyena (2020)
Cast: Kim Hye Soo, Jun Suk Ho, Lee Kyung Young, Joo Ji Hoon
Genre: Comedy, Romance, Law
Number of Episodes: 16
How can we talk about confrontational protagonists in a law drama without Hyena?
Hyena is a drama that is an oasis in a swarm of K-dramas which promise you a burning romance but sizzle out midway. The setting is in the legal world. The plot-line consists of multiple stories, but each is seemingly driven by the central romance. Our protagonists are both lawyers. Be prepared for heart palpitations, because they weren't messing with tension in Hyena at all.
The competitive edge in-between our leads in Hyena, the ruthlessly grey nature of the lines of law/lawlessness/outlaws and means-ends of justice; all compound into this gem of a show. The palpable tensions and strain written insidiously into the characters and their interaction in Hyena are similar to that of Bo-ra! Deborah.
The character antics that eventually lead to our protagonists coming together as a couple are just the cherry on top. And will keep you grinning, just as it does in Bo-ra! Deborah.
Kiss Sixth Sense (2022)
Cast: Kim Ga Eun, Seo Ji Hye, Kim Ji Suk, Yoon Kye Sang
Genre: Romance, Drama, Supernatural, Office, Comedy
Number of Episodes: 12
Life is hard when you can see someone's future via a kiss. Life is harder still when your boss hates your guts and you keep butting heads with him, even though you can see the future via a kiss.

But life becomes pure chaos when you find out (via an accidental kiss) that you will be in a relationship with said boss in the future. Yeah, life sure is hard for Hong Ye Sul, an up-and-coming member of a marketing team under marketing god Cha Min-hoo, her boss, with whom she is often at odds.

When an accidental kiss between the two lets Ye Sul be privy to the intimate and sweet nature of their relationship in the future, it sets them off on a path of romantic discovery and understanding.

The nature of Min-hoo and Ye-sul's relationship in Kiss Sixth Sense (with the work dynamics and their playful approach) is kindred to Bo-ra and See-hyuk's honest and candid dynamic in Bo-ra! Deborah.

Forecasting Love and Weather (2022)
Cast: Yoon Park, Song Kang, Park Min Young
Genre: Melodrama, Romance
Number of Episodes: 16
Much like Bo-ra! Deborah, Forecasting Love and Weather begins with our protagonists starting off with each other on the wrong foot. In the latter, the stage is set at the National Weather Service HQ in South Korea.
Our female protagonist, Jin Ha Kyung is a big deal there. She outranks our male protagonist Lee Shi Woo by seniority. They butt heads and personalities at the workplace, predicting and forecasting the weather in the most accurate way possible. In both the dramas the romance between our protagonists begins after the female dumps her partner after catching him cheating with someone else.
There are side couples and characters in Forecasting Love and Weather, with their own set of circumstances and subaltern issues, which is reminiscent of how characters in Bo-ra! Deborah faces issues independently of the focus of the main romance.
Both shows feature the main leads working together with each other. If workplace romances with melodrama, flawed characters, and slow-burn romance are your thing, then watch away. Further, both dramas feature protagonists that are driven and sincere in their life goals. For those of us dragging ourselves through the 9-5, there are elements that seem familiar even as they aren't.
And for Song Kang stans out there, we have something special. Take a look at 5 Reasons to watch Nevertheless Kdrama, to help you spend more quality time reviewing his work.
Strangers Again (2023)
Cast: Kang So Ra, Jo Eun Ji, Jang Seung Jo
Genre: Drama, Romance, Life
Number of Episodes: 12
Strangers Again echoes Bo-ra! Deborah on several accounts. While the latter features a secondary divorce couple, going into the many layers of how and why a relationship fails, as well as the need to let go of bitterness as we learn to forgive.

The former explores the story of a divorced couple, the reasons why they went their separate ways, and the lingering possibility of them getting back together. So, while a divorced couple may be a commonality, both shows deal with it in their unique ways.

It isn't easy to work with your ex. The push and pull, animosity, old memories, and remnants of angst make it difficult. And sometimes even love isn't enough. It's an enemies-to-lovers of a different kind, and may not be for everyone. Proceed with caution, emotional turmoil ahead. You have been forewarned.
But there is pleasure in pain. If the pain in this K-drama resonates with you, we thought you might want to take a brief look at 7 Korean Dramas like "Strangers Again"| 7 Kdramas similar to "Can we be Strangers"
Honourable Mentions
Some worthy K-dramas that employ one or more tropes that occur prominently in Bo-ra! Deborah, other than the ones on our list includes The Innocent Man (starring Sang Joong Ki and Moon Chae Won), Her Private Life (starring Park Min-young and Kim Jae Wook as the leading couple), Pinocchio (starring Park Shin Hye and Lee Jong Suk).

These K-dramas offer not just stellar cast options, but also interesting takes on how people with seemingly different personalities can gravitate towards each other and forge meaningful emotional connections.

Conclusion
Falling for the enemy, following your heart from the depths of hate to love, and swallowing your pride for someone you care about; you think the thought and Korean dramas have that for you as a viewer to consume and celebrate.
Bo-ra! Deborah plays with a predictable plot but turns it interesting with its comedic timing and realistic look at heartbreak.
These fifteen dramas we have selected from a sea of K-dramas, all approach the predictability of falling in love with your enemy/antagonist/someone you don't like/polar opposite to you – and spin it into stories that are endearing and enjoyable.
When in a rom-com slump, refer to our Best 15 k-dramas like Bo-ra! Deborah, and vicariously experience the thrill of romantic highs and lows.
Connect with us in the comment section and tell us your favorite shows with similar themes, tropes, character traits, etc. We are always listening to people!
Must Read:-
11 Kdramas similar to REVENGE OF OTHERS
5 must watch Kdramas similar to "Bad and Crazy"
7 Kdramas to watch if you enjoyed "Bulgasal "Immortal Souls"
7 Kdramas like "TRACER" | 7 Kdramas similar to TRACER
FAQs "10 K-dramas Like Bo-ra! Deborah"
Who is Deborah's dating coach?
In the K-drama Bo-rah Deborah, Deborah is the public persona of Bo-rah, a successful author and dating coach.
How many episodes will Bora Deborah have?
Bo-rah! Deborah will have 14 episodes.
How many episodes are there in True To Love K-drama?
True to Love streaming on Amazon Prime has 14 episodes.