Annyeon ARMY-yaa !
Do you want BTS official and Unofficial merch shipping to India? Looking for a way to shop for BTS designed artist merch? How cool it would be to get BTS merch under 200 Rs. ?
So you have got into the Bangtan world and now want some BTS merch to buy in India?
That's a great decision by the way. If you are looking to buy official merchandise such as Album then first of all you are lucky in the eyes of many student ARMYs. But many BTS army are students or belong to broke fandom (just kidding !)and can't buy expensive official BTS merch. In this case they move to unofficial or custom merchandise.
Table of Contents
What are types of BTS merch?
Well there are mainly two types of merchandise to buy – Official and Unofficial
Official BTS merch
Official merch are what the bighit now HYBE company releases as that is one of the major source of their revenue. They sell these on their own shop such as – Weverse shop and thier partner vendors ..
Where to buy official BTS merch?
If you are looking for official merchs then you can explore official shops such as –
1. Weverse shop
BTS merch type – Albums, Light sticks, Merch designed by BTS and all other official merch
Payment Method – Debit/Credit card
Weverse shop is the official website of HYBE to sell merch of their Kpop bands including BTS. However they are not shipping to India most of the time.
There are other online stores for Offical BTS merch such as –
2. Cokodive
BTS merch type – Kpop albums and light sticks, photocard,BT21, Tinytan, mystery box, official merch

Payment Method – Debit/Credit card, UPI, Paypal, Shoppay, Wallet pay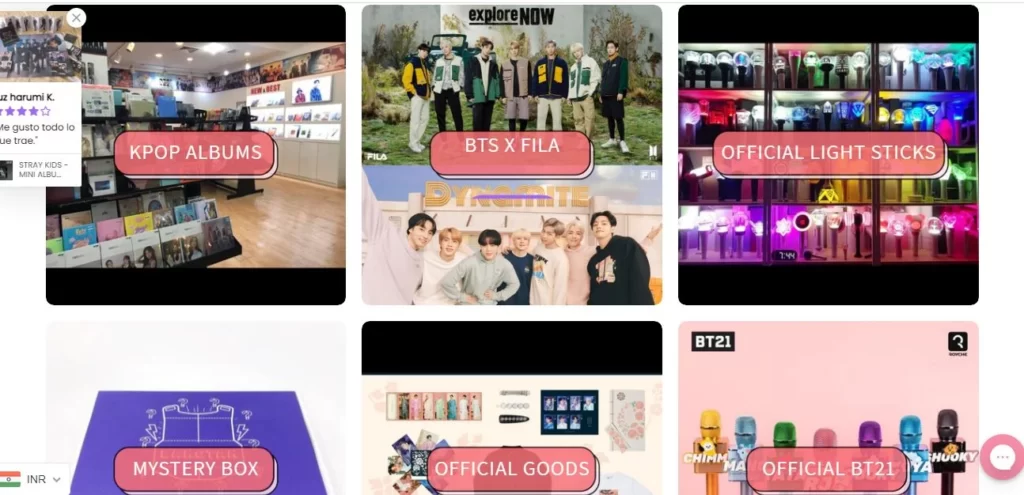 They do ship to India but for not all the goods. Plus, there is custom duty fee and much shipping price. So you can watch your budget for that before selecting them.
On CoKodive you can browse all products with INR price but payment will be in USD.
Cokodive is the biggest online portal for official Kpop merch and albums. It is so far the most trustworthy.
3. Social Shops
Another best method to buy Official BTS or Kpop merch is to check individual sellers and stores on social media like – Twitter and Instagram You can ask them everything regarding shipping of BTS merch in India.
But always go with a verified option because there are many scammers also.
Dont fget to check their reviews and product images before you buy.
Unofficial BTS Merch
Unofficial BTS merch are what individual stores sell. These are also called custom merch. These are inspired from BTS, BT21 and Tinytan characters, terms and slangs.
These stores are individual sellers or small business so they mostly offer cheap merchandise.
Where to buy custom/unofficial BTS merch?
There are many websites and app selling unofficial or custom BTS merch in India from India.
Some of them are selling on marketplaces like – Amazon, Flipkart etc. and some are selling it on their website or on social media such as twitter, facebook or Instagram.
You can DM them on Instagram or just checkout their website.
There are big players like –
4. Amazon
BTS merch type – Hoodies, Tshirts, Accessories, Photocards, Notebooks, Kpop albums and other unofficial merch
Payment Method – Debit/Credit card, UPI, Paypal, Wallet
Whenver we think of Online shopping Amazon and FlipKart are the first options we look for.
And guess what? You can find a range of BTS merch on these sites with budget pricing.
So don't waste time , just start browsing BTS merch that will remind you of your BIAS.
Shop here to get up to 70% OFF (specially for our fam)
Offer will be applied once you click on the link!
5. FlipKart
BTS merch type – Hoodies, Tshirts, Accessories, Photocards, Notebooks, Kpop albums and other unofficial merch
Payment Method – Debit/Credit card, UPI, Paypal, Wallet
If you shop online, flipkart must have been on your go to sites. I really love the interface of FlipKart , it's clean and user friendly.

There are many small sellers selling range of BTS merch on FlipKart including – Keychains, Jeans, Cushions, Bottles etc.

You can avail upto 70 % of discount on shop of BTS and KPop merch on FlipKart.
Shop to get BTS mech under Rs. 200 Now !
6. Unnie Looks
BTS merch type – BTS and Kpop Lookalike Outfits
Payment Method – Debit/Credit card, UPI, Paypal, Shop Pay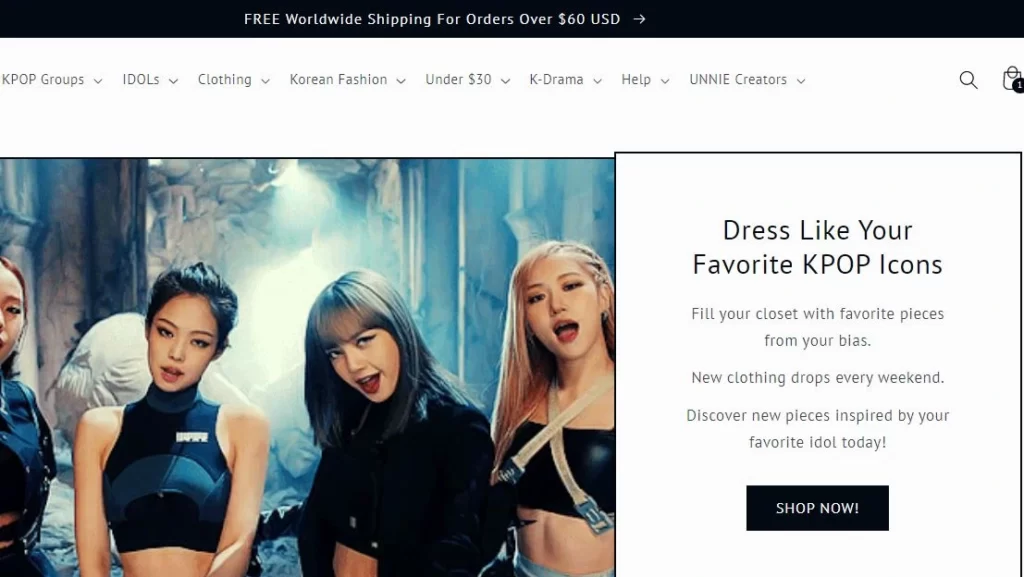 From Jungkook's Pink Jacket to Taehyung;s DNA Sweatshirt, we all wanted to wear those iconic BTS outfits. Now wait no longer.
Unnie Looks offers all these Outfits shipping to India on budget price.
Now you can dress up like your BIAS and flaunt your wardrobe.
Unnie Looks is a Singapore based portal that offers range of Kpop outfits including – IU, BlackPink, Exo etc.
Don't forget ot get 10%OFF with this coupon code – KDROPCART
7. BTS stores on social media
BTS merch type – Hoodies, Tshirts, Photocard, Noteabooks, Accessaries, Posters, Mug, Figures, Keychains, BTS gifts.
Payment Method – Netbanking, UPI, Wallet etc.
Social Media apps are on everyone's phone.
Kpop merch shops on these social media are affordable. The best things is theat you can DM and talk to shop owner fast and directly.
The big loophole is that there are not many good options. There are not much affordable premium designer merch available on such websites.
To buy trendy custom BTS merch you can take a look at some individual stores who are small businesses and individuals selling on Instagram, twitter or facebook.
You can find them on any social media app you use. These individual shops are selling unofficial or official BTS merch like – photocards, Keychains, Tinytan figures etc.
I hope my ARMY chingus got answers they were looking for. Do share this post with your other ARMY friends.
Borrahae ARMY-yaaa :D
MUST READ :
Will BTS have concert in India in 2022?
Best shops for Korean dresses and Kop outfits India
BTS futule plans and solo projects in 2022
Best shopt to buy YUMI'S CELL figures and merch
You can get other details on FAQ section.
BTS merch FAQ
Is BTS merch available in local stores in India?
No there are not any official local stores available in India to buy BTS merch. However you might find some clothing or other stores who are selling some BTS inspired goods like T-shirts, Hoodies posters etc. These local stores are available in big cities such as – New Delhi. Some of these shops are selling online also.
You can check them on google and read their reviews. If you like there offering go ahead and buy BTS merch from them directly by visiting their shops.


Where can I buy BTS merch in India?

Shops for BTS merch India –
KdropCart Shop
Cokodive
Amazon


Does HYBE ships to India?

No currently HYBE isn't shipping to India directly.


Does Amazon sell official BTS merch?

No most of sellers on Amzon are selling unofficial BTS merchandise.



Where can I buy a BTS album or merch in India at a cheap price?

Cokodive
BTS album and cheap word do not match with each other at least in India. So Album can't be available on cheaper prices. However some websites like Ktown4U and Cokodive sell it in less price. But not everything they sell is available for Indian shipping. So clearly check all the prices before ordering.



From where i can buy BT21 merche in India?

.KdropCart Shop
Amazon
Cokodive
FlipKart
Meesho



What is the online app to buy BTS merch in India except Club Factory?
Flipkart
Amazon
Meesho