Annyeon Chingu-Ya !
Looking for best websites to shop Korean fashion and Kpop clothes with international shipping ?
Drooling over Kdrama styled outfits ?
Yeah I got you !
When it comes to Korean shopping and fashion, girls and even boys these days want to explore different platforms.
While flee markets, stores or malls have their own charm, online websites have their own convenience.
With growing e-commerce, even offline stores have started also selling their Korean fashion clothes online.
At the click of a button, you can easily receive your favourite KPop singer's dress that he wore, at your door step.
 For that, people should know about the best deals and the best online websites too.
I have already made half of your work easy by laying out something for you.
5 Best international websites for Korean fashion and Kpop clothes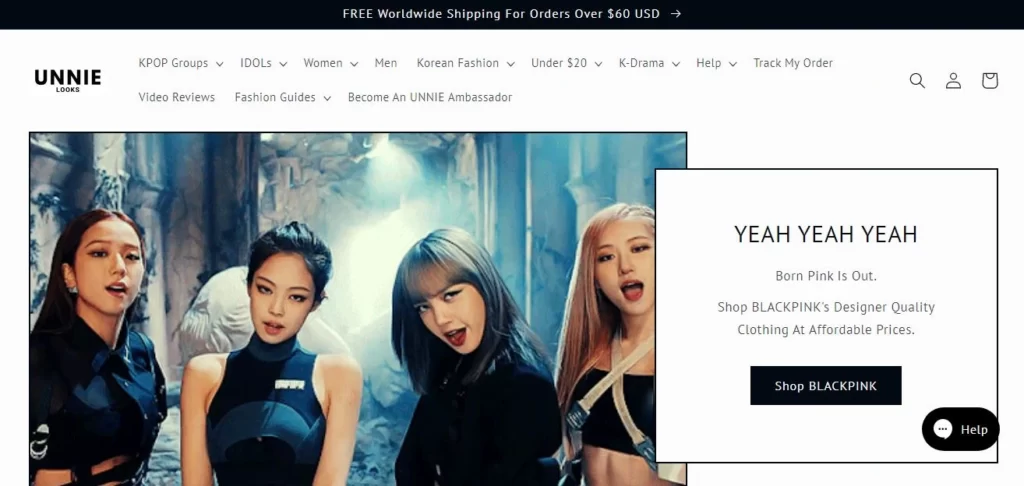 UNNIE, pronounced as 'OO-nee' means older sister in Korean.
Unnie Looks provide people with affordable and excellent quality clothing that enables them to dress up like their idols.
They have a large variety of stylish and affordable Koreans clothes. They also have many schemes and offers such as Unnie brand ambassador program.
Don't forget to use Coupon Code "KDROPCART" for 10% discount !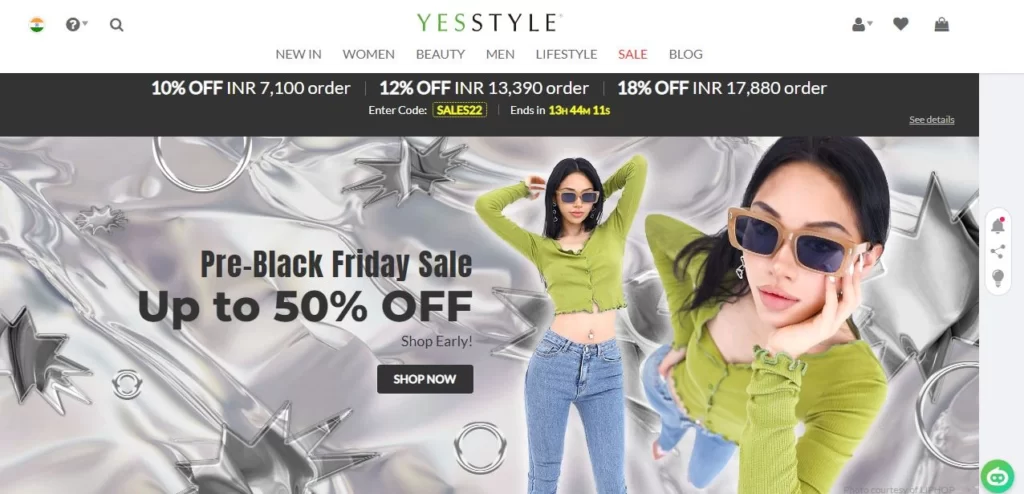 This one started in one of the basements of San Francisco in 1998.
With a team of over 400 people now, they have a vast network of stores reaching millions online as well.
They have a good variety. From Kawaii style, street-wear to eco-friendly wear.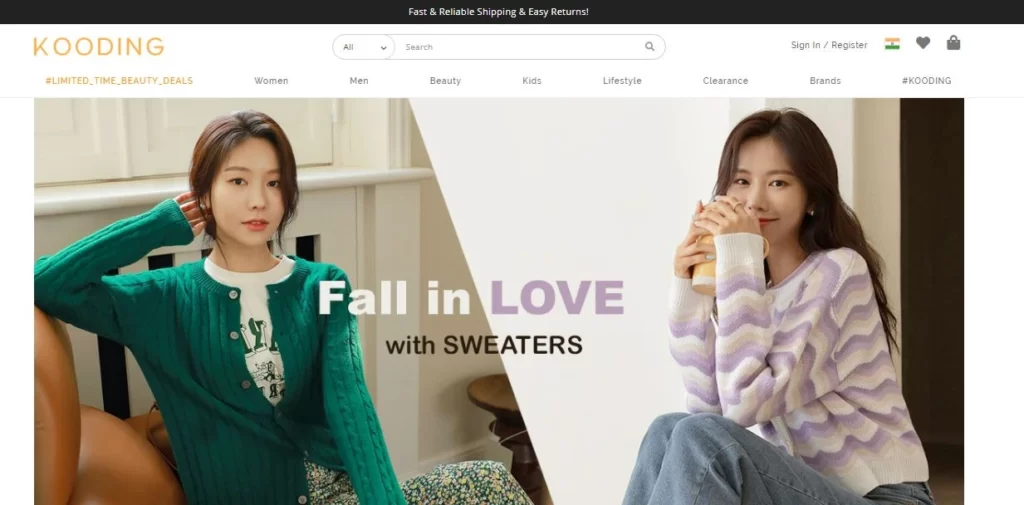 Best in Asian clothing online, it is THE shop to shop for Korean men and women's fashion.
Hoodies, jeans and a lot more Korean brands like Chuu, Leesle, etc. They have it all.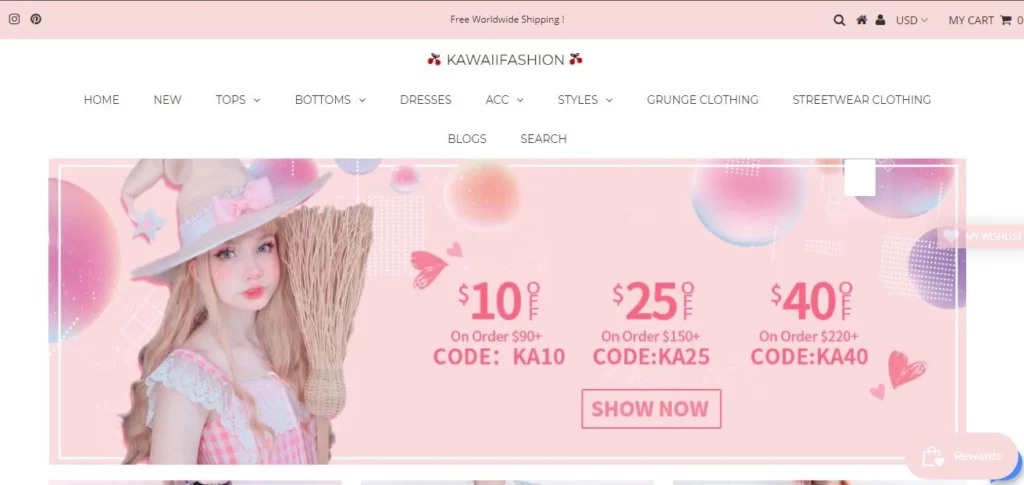 Cute is the word for this shop. All fashionably cute outfits are what you will find here.
They have women's dresses, hats, nightwear, skirts and tops, etc.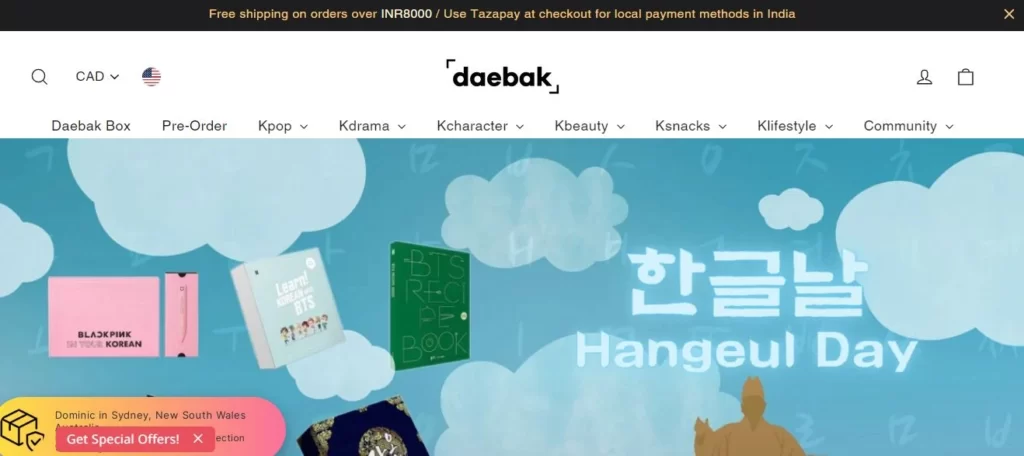 Daebak means amazing, great, awesome, or jackpot.
Daebak provides everything exclusive from Kpop, Korean Drama and snacks to K beauty too.
Their main goal is to unite the global Hallyu community.
They provide casual wear Korean clothing.
Don't forget to use coupon code KDROPCART for 5% off and discounts !
These 5 were my best picks. But, But, But…
I have some more suggestion and recommendations for you ..
25 best online stores for Kpop, Kdrama and Korean clothing
Shop Name
Shipping Charges
Types of Clothes Available
1.Unnielook
$7. Free over $100
Affrodable and stylish women's clothing from your favourite KPop idols/ bands.
2. Daebak
Free over $70
Offers casual-wear Korean clothing.
3. Ledin
Free over $79
Trendy Korean clothing. Very cute knit-wear also available for women.
4.Yes Style
Varies. Free over $49 in case of Standard shipping
Men and woman Korean clothing, pet clothes.
5. Kooding
$4.99. Free over $69
Mixed Korean clothing brands for both men and women.
6. Kawai Fashion
Free Worldwide Shipping
Cute Korean clothing and mostly famous for Lolita fashion.
7. Chuu
$8.99. Free over $100
Variety of Korean clothing but mainly famous for its jeans in Korea.
8. Fashion Chingu
Varies. Free over $60
Follows the fashion of KPop idols.
9. 66 Girls
Varies. Free over $200
Korean clothings, knit-wear and active wear clothes.
10. Codibook
Varies. Free over $100-$200
Large collection of only women's Korean clothing range.
11. Leesle
$37. Free over $199
High-end Korean clothes.
12. Dint
Varies. Free over $200
Luxury Korean clothing.
13. The Handsome
Varies. Free over $200
Simple or street wear clothing yet the most expensive on this list.
14. Etsy
Varies by seller
Has a good range of Korean clothing apart from other types of clothes.
15. Miamasvin
$10-$20. Free over $200
Focuses on its own brands of Korean clothing.
16. W Concept
Varies. Free over $99
Navigatable website with an extensive variety of Korean clothes.
17. Naning9
$5-$25. Free over $150
Biggest branded Korean clothing.
18. GMarket
Varies
KPop clothes, KPop souvenirs and KPop merchandise.
19. Lianox
Free
East-
Asian fashion clothes
20. Dark Victory
$14.99. Free over $100
Trendy and streetwear Korean clothing. Some edgy clothes.
21. StyleupK
Varies, often around $10
Large variety of Korean clothing for both men and women, traditional Korean clothes.
22. Stylenanda
$10. Free above $100
Only Korean clothes for women of their own brand.
23. The Bald Tiger
Free
American and Korean streetwear elements in their clothing. Use of tigers, goblins and yin-yang elements in their outfits.
24. Kore Limited
Varies
Hottest Korean clothing especially streetwear.
25. Mixxmix
$14.99. Free over $200
Unisex clothes available but more focussed on women's clothing.
Best international Shops for Korean Tops and Skirts
Fashion Chingu
They have some very chic and cool tops, especially shirts. They have graphic round neck tees as well.
They have some very stylish and really colourful skirts. If you are looking for some patterned or bright-coloured skirts and top sets, you need to check this website.
Looking for some casual, streetwear yet affordable and trendy tops and hoodies? Try Kooding. I like their collection! It's so comfy. Especially for Fall.



Best online stores for unique Korean clothes
Mixxmix
It has many casual, sporty designed Korean clothes. For your favourite K-pop idol's outfit that you want to wear, head to this.
Stylenanda
It's already quite popular in terms of Korean clothing. It has nice stuff.
Dark Victory
Quite similar to the name, it has some different, edgy kind of Korean clothes.
Best Shop/ website/ app for Cute Korean dresses
As the name suggests, Kawaii Fashion store stocks everything cute. Their mission is to let people wear cute Korean clothes with accessories and that in itself is a therapy.
Chuu
This store is also one hub for all things sweet, simple, cute yet stylish. It has more to do with lacey, frilly, pastel shaded Korean clothes for women.
You can also download this app to shop for some subtle Korean clothes. It has lot of cute dresses, tops and skirts. And a lot more.
Best international Shops for Korean shirts
They have some really catchy shirts. Some prints here and some patterns there. Over all a very good collection. Click here to shop this crop top shirt – my favourite!
The Handsome
The BEST shop to shop for Korean shirts. They have you to choose the colour, brand, size, model and fit – only for shirts specifically apart from their other range. A huge variety to shop from. This is the place!
Dint
The price might throw you off-guard for a second but if you see the shirt, you would definitely not want to leave it. Dint has a very good collection of shirts indeed.
Best budget-friendly and cheap International Korean shops
Fashion Chingu
It has a lot of good, affordable and trendy Korean clothes for both men and women.
It has lot of offers and schemes for people who want budget-friendly Korean clothes. The clothes are also placed in different categories according to prices for instance – 'Under $20' which makes it more user-friendly for the customers.
It has a good collection of Korean clothes with reasonable prices.
Best Luxury Korean clothing shops/ stores
Dint
It is one of the best luxury Korean clothing shops in the fashion industry. It has some very unique and chic clothes.
Leesle
It is also a high-end luxury Korean clothing brand. It is a Hanbok brand loved by Kpop idols these days.
While Unnie Looks has some affordable clothes, it also has a separate section of clothes with some expensive clothes.
Final Thoughts
News has it that there are many, many websites these days that sell some affordable, trendy and chic Kpop and Kdrama inspired Korean clothing.
There's a cut-throat competition among the Korean clothing brands due to its increasing popularity. We need some good and genuine advice on where to buy and spend our pockets on.
Trust me and go check these websites out for all that you know the best Korean , Kdrama and Kpop inspired outfits are waiting for you!
Sranghae 😀
Your Chingu…
Kdropper
MUST READ
Unnie Look Review : Best website for Korean and Kpop clothes
Where to shop for YUMI'S CELL figures and merch
FAQ " Korean Fashion shops international"
What are the best online Korean clothing stores?
Unnile Looks and Yes Style are best online Korean clothing store.

What is best international shop for Korean fashion and accessories ?
Yes Style , Kooding and Unnie Looks are the best International shops for Korean fashion outfits and accessories.

Where I can shop for Korean outfits like Kdrama ?
Shop Kdrama like Korean outfits on UNNIE Looks.

 
What is best international  shop for Kpop inspired clothes?
Unnie Looks is the best international shop for Kpop inspired clothes.

Where I can shop Korean and Kpop fashion clothes  in budget?
Yes Style and Daebak.co are best shops for budget friendly Korean Clothes and Kpop outfits.

Where to shop cute Korean dresses?
Kawai Fashion is the best international website and shop for cute Korean dresses.

What is best international shop for Korean winter dresses ?

What is best online store for formal Korean outfits ?

What is best online shopping website for Korean street wear ?
Kooding and Punk Design are the best shops for Korean street wear.