Anneyon Chingu-ya !
Do you want to dress like your BAIS?
Or want to be known as a fashionista by looking like Kpop idols?
Don't worry, I've got you cover !
K-pop idols are known for their fashion sense and style. They are always dressed to perfection and have a different style from the other celebrities.
The most popular way to dress like a K-pop idol is to wear similar clothes to those they wear in their music videos, concerts, or photoshoots.
But it is not easy to find these clothes, but don't worry —we've got you.
There are some ways to get similar outfits to K-pop idols without spending a fortune.
You can buy items like accessories, clothes, etc., that match your favourite idol's style.
Kpop idols are the fashion trendsetters in South Korea and around the world.
They dress up in the most stylish outfits, and their fashion choices are always followed by their fans. In this article, we will show you how to dress like a K-pop idol.
Dress like Kpop Idol
Layer it up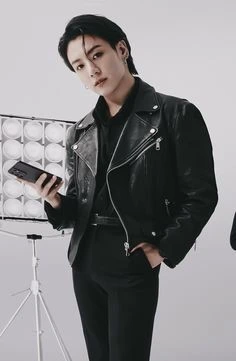 One way is to layer your clothes. You can start with a cardigan or jacket, then put on a sweatshirt or t-shirt, and finish off with a blazer or coat.
Another option is to put on some skinny jeans and then add a long cardigan over the top of them.
We think you can start with the Blackpink–lisa-inspired-eggyolk-sunset-cardigan-top from Unnielooks as a casual yet chic option to wear to school.
Check out the black, pink, and the blackpink-jennie-inspired-cardigans, as well as the kawai fashion sweater.
Accessorise everything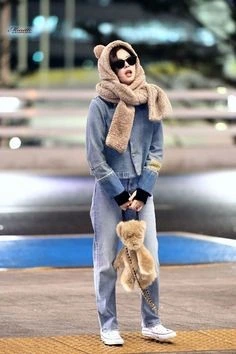 K-pop idols are always in sync with the latest fashion trends, and their style is always on point.
A Kpop idol's outfit is never complete without matching accessories. Here are some of the most popular accessories that you can find in kpop idols' closets:
Sunglasses are a must-have for any K-pop idol. The sunglasses they wear usually show their personality and mood.
For example, if they want to look cute or sweet, they would wear a pair of cat eyeglasses or round glasses. On the other hand, if they want to look tough or cool, they would wear a pair of aviator sunglasses or retro sunglasses.
Check out the mirror sunglasses from kooding.
To dress like a K-pop idol, you need to have the right accessories. You can wear necklaces, earrings, and scarves, which are all must-have items for Korean pop stars.
You can check out yoon-se-ri-inspired-gold-thick-chain, bts-jimin-suga-wears-wave-earrings, Chaeryeong earrings, cross-unbalance-chain-drop-earrings, embroidered scarves, and hoods-splicing-scarves.
Neutral colors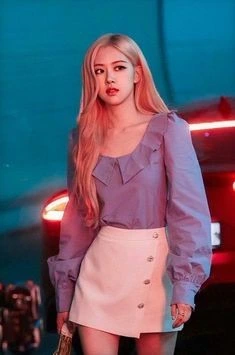 K-pop idols are trending in fashion. They dress in a unique style, and their fashion does not influence the fashion seen in Seoul. K-pop idols wear all shades of neutral, and they want to stay true to themselves.
Neutral colours are the best choice for clothes. They go with any other color, and they make you look confident and soft.
Try out sweater dress, knit pants, oversize pullover, mini dress and dress suit to enjoy the full comfort.
Oversize is the new casual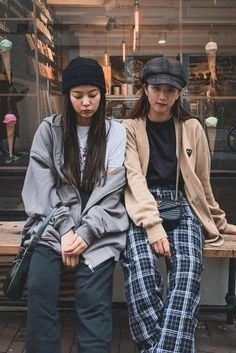 Oversized clothes are a trend that has been popular for the last few years. There are many different reasons why people wear oversized clothes, but the most common one is because they want to look comfortable and more fashionable.
The best place to find these clothes is in online stores like Unnie Looks.
If you're looking for something like Lisa, and Jungkook clothing, check out the Jungkook-inspired Emerald Sweater, Jennie-inspire-oversize-Paris-print-t-shirt and Jennie-inspired-cardigans-sweater.
Oversized clothes are not just a trend that will fade away, they're here to stay, and there will be new styles coming out in the future as well.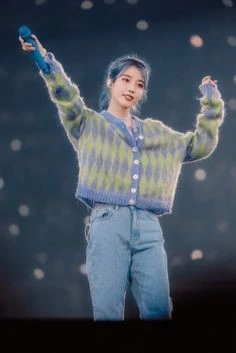 There is a trend toward wearing oversized clothes. This trend is popular among kpop fashionistas, and it is not going anywhere anytime soon. Oversized clothes are in style because they are comfortable and allow for more freedom of movement and creativity.
The cardigans are perfect for those who want to add a little bit of femininity to their outfit but don't want to wear a dress.
They can be styled with oversize pants or an oversize sweater that matches the colour palette of the cardigan.
Go safe with black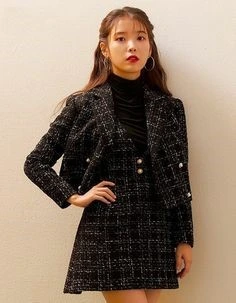 The colour black is the safest bet to wear in any situation. It can be a great fashion statement, and it will always be in style.
The black colour always looks elegant and sophisticated. It also lends an air of mystery to the person wearing it.
Black is the perfect choice for any occasion, whether it is for work or a night out with friends.
Black tops, skirts, and jackets are versatile items that can be worn together or separately. You can wear a black top with jeans or a black skirt with heels or flats.
The possibilities are endless, and you will always look chic in this timeless colour!
Take a look at IU bustier top, IU mini skirt, bodycon dress from YesStyle and black slip dress from PUNK DESIGNS.
Say Hi To Patterns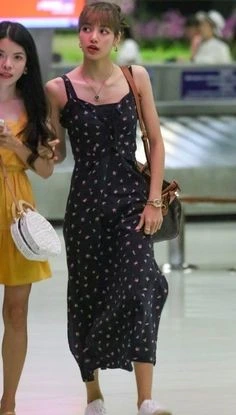 K-pop idols are always looking for patterns in their outfits.
Normally, people tend to wear the same tops with different skirts or trousers, or the same jacket with different trousers.
The great thing about pattern mixing is that it can be a lot of fun, and you can create some cool combinations.
Patterns are a great way to make your clothes stand out. They can also be used in a more subtle way to add some detail to your outfit.
Check out IU suit jacket, multilayer skirt, shirt vest and bow knot shirt.
Final thoughts
K-pop idols are some of the most influential people in Korea. They are known for their fashion sense, and their style influences a lot of Korean youth.
First of all, the stars have their style, and you have to figure out what your style is.
Also, they are usually styled to make a statement; it can be anything.
So you need to find out what they think of your style and match it with theirs. And finally, you need to find the right clothes that incorporate the style of your favourite star.
Don't forget to look at the mentioned clothing.
Saranghae 🙂
Your Chingu …
Kdropper !
MUST READ : –
How to dress like BTS members in budget in 2023?
How to Dress like Kdrama female under $20/$25/$30 ?
Best international shops for Korean Formal Fashion in 2023
What are Korean Street Fashion Trends in 2023?
FAQs "Dress like Kpop Idol"
How to dress like a K-pop idol for girls?
Find your style. Take inspiration from your favourite idol and mix up your vision, the mentioned items can be a great starting point for you.

How to dress like a K-pop idol for boys?
Try to incorporate a more personal touch; take inspiration from your favourite idol and their style statement. You can start small by incorporating the earrings for a leather jacket in your closet.

 
How to find K-pop idol clothes?
The K-pop idol clothing can be found on Unnie Looks, YesStyle .etc.