Annyeong Chingu-ya !
Recently I watched a number of Youthfull Kdramas and I am craving more. Actually youth centric like teenage, adult age, school and college centric Kdramas with real life concepts and passion of youngsters are my most favourite type of entertainment not just in Kdramas but in other segments like movies and web-series also.
So I asked this question to KdropCart fam on IG to recommend me their fav youthful dramas. And that Q&A made me excited to write this blog of my most favourite youth centric Korean dramas that I want you to must watch. Here are few fun answers of fam (that were not supposed to be fun :D)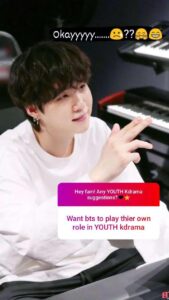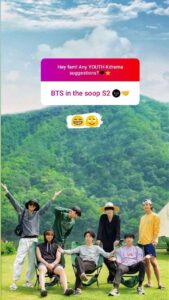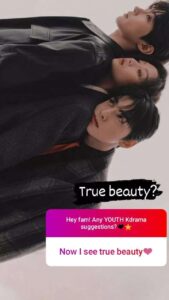 I will be keep updating this post as I might not be able to list all of my fav youth Kdramas so whenever I will get time I shall update it. These dramas mostly deal with the problems, dreams, passion and struggle of adult and teenage life that I know most of us can totally relate too (cause most of Kdrama watchers are teenager or in their 20s).
Here I am not putting much concern on the romance side because somehow almost all youth Kdramas have romantic angle. Here I will be talking more about relatable concepts of youngsters but don't worry I am not going to give spoilers of any drama 😀
Table of Contents
Here is my Kdramalist of Youthful Kdramas that you can watch –
Twenty Five Twenty One
What should i say about this drama? It is just more than perfect. starred by Nam Joo Hyuk and Kim Taeri the drama screams perfections. 25-21 series' plot revolves around Fencing athletes and hardships of becoming an adult and taking responsibilities.
It is a rom-com giving pure friendship goals but will motivate you to go after your dreams with each of its episode so don't ever skip this youthful series.
Fight for my way
It's impossible to talk about youngster's life kdramas and not mention fight for my way. This drama is a total gem. Starred by Park seo Joon and Kim ji won it revolves around four best friends. The story focuses on the struggle of adult age like even if you were a bright, talented or good looking child in school there is no guarantee you will have a prosperous life.
But only thing matters is to never give up on your dreams and always do your best. My favourite part in this drama is the journey of childhood friends (both mail lead couple and second lead couple) into lovers and supporting each-other.
Today's Webtoon
Today's Webtoon drama is about a webtoon company NEON. The webtoon service department of the company is about to shut down as the sales are going down.
But the show depicts the story of all employees including Kim Se Jeong who is passionate for webtoons.
Their team work and struggles make it a perfect coming of age show.
It teaches to keep working on what makes you feel good even if your hard work means nothing to others.
Run on
Here comes my love RUN ON. Run on is a sweet and smooth slice of life Kdrama with youthful concept. It also includes the concept of always moving toward your goals and dreams and embracing yourself cause we all know the weakest shoulders (young age) have responsibility to take the biggest decision of life (career, dreams and love).
It's a humorous drama and the best part is the healthy relationship of main leads and second leads.
Imitation
Ah ! This drama I wonder why I didn't started it when it was ongoing (actually better, that's why I was able to binge watch it). Actually I thought of watching it when it was airing but didn't, then one of KdropCart fam recommended me to watch it and I totally loved.
One thing I want to say is that if you love Kpop and are totally into Kdramas then it is a must watch if you haven't. The story contains the struggles and life ( I don't know how much of it is true but concept seems real) of Kpop idols.
Nevertheless
Wait wait wait ! Before you give me a naughty eye and smirk let me tell you I haven't include it on this list for the reason you might be thinking of. Infect if anyone wanted to Nevertheless Kdrama a try only because of its adult and steamy concept then they might have disappointed cause beside 2-3 episodes these things just disappear. The only thing left which covers the most part of this drama is the love life plus career confusion and uncertainty of Generation Z (or may be millennials).
Along with that the best parts of the drama are its cinematography, growth of characters and acceptance of their true self.
However many people hated the main lead (Park jae woon) infect even the actor (song kang) didn't like this character but I felt like Park Jae eon is one of the most realistic MALE characters in Kdramas. It's totally different then the usual girlish imagination of a prince charming on white horse will come to solve all your life problems and all that fantasy things. He somehow is the person (or man) of present world. He is young just uncertain about his feelings but he isn't aggressive, abusive or forceful with the girl he is seducing.
You can check latest cool Nevertheles Merch here …
Startup
Start-up is that drama which gave us one of the biggest second male lead syndrome. While the main lead ( Nam Do-san) is so supportive and gentle the second lead (Han Ji-pyeong) is just so cute and lovable. As the name suggest the story of this drama is joining an accelerator program to win the startup funding and grow the business with the help of mentors through a competition.
And I promise while watching this adventurous Kdrama you might get feeling of having your own star-up. The whole journey and progression of story was just so exciting for me. I promise you will also get that feeling if you ever dreamed of having your own business 😀
My ID is Ganganam beauty
I think many of you might have watched this drama. My ID is ganganam beauty is about a girl Kang mi rae who does plastic surgery before going to college because of being called ugly. So the concept deals with the societal norms of being "beautiful" especially for a girl. the story is not just about the insecurities of the main leads but other characters also share impactful screen presence.
One thing to mention that even though its a rom-com its not typical cheesy love story instead the plot is more focused on the jealousy and friendship aspect of the youth but … it has many "butterfly" moments also for your heart 😀
Itaewon class
here comes my one of my most favourite OST drama , means i love the OST of Itaewon class especially "Start over" and "Sweet Night". i felt the drama is like those typical Bollywood films while watching like there is our hero being the victim of the powerful villain of our story. then years later the hero decides to take his revenge but… in very decent way WOAHH isn't that so filmy.
Yeah Yeah it is not like those dhishoom dhishoom movies but the dramatic heroic angle is similar right 🙂 Although its a Kdrama so how it can not have realistic angles? that's why there is no filmy dhishoom dhishoom… 😀
At distance spring is green
this is definitly one of the best 2021 Korean Dramas (at least on my list). the bromance, the cute sunbae-hoobae relationship, childhood traumatic angle and the plot that deals with child abuse is really worth watching. along with bromance the sisomance of main female leads is also enjoyble.
At distance spring is green does full justice with its name that shows the hidden dark side of being young/adult even though the youth age seems so bright and springfull (is that a word :] ).
He is psychometric
Here comes my another love – He is psychometric made me so hooked when i just watched it's first scene. it's a suspense thriller that has psychological plot. another thing i really loved was the female lead Yoon jae-in (Shin ye-yoon). S
he was really impressive in this drama and of course the chemistry of her and Lee Ahn (Park Jin-young). the cinematography, plot and story-telling of the drama is just WOW that sometimes makes me think that we don't talk much about this drama. I rarely see any long discussions on this drama in Kdrama fan groups 🙂
The School Series
currently there are three dramas are realised in this series – School 2013, School 2015, School 2017 and School 2021. I liked school 2015/ Who are you the most. for someone who prefers school romance more might find these dramas little boring at some point but overall these are one of the best Kdramas you can ever watch.
All of these three have different plots.
These are full of youthful passion, school and study problems of student such as bullying in school and competition. And as a teenager you might relate to some of the elements 🙂
So this was my shortlist of my favourite Youthful Kdramas BUT….. List isn't ending here ! I shall put more dramas on this list in coming days and will update you through social media and email (so join us and keep checking).
Now I want you to recommend, suggest and give feedback of YOUR favourite youthful kdrama in the comment section below or you can also put your list/review on IG by tagging us @kdrop_cart and I will share it with everyone.
AND! If you are looking for some cook Kdrama merch on affordable prices then explore our Kdrama merch collection here! You know the best part? You can ask for any customization on any product and it's FREE 😀
On this note keep waiting for the next post and that's it for today chingu, annyeong !!
Saranghae :3
your chingu…
Kdropper !
MUST READ
Must watch Best high rated Kdramas of 2022
6 Korean Movies remaked in Bollywood
6 Best short Kdramas to binge watch
11 K-Dramas ought to get on your Monsoon Binge-Watch List
SHARE THIS POST IF YOU LIKED CAUSE SHARING IS LIVING !
FAQ "Coming of age Kdramas"
Where to buy Kdrama merch in India?
You can shop for cool and affordable Kdrama merch on KdropCart and also ask for any customization for free. Apart from this you can check websites like AMAZON and some individual seller stores on IG for Kdrama merch 🙂

What are the best College Kdramas?
Some of my favourite College Kdramas are –

Weightlifting fairy Kim bok Joo
My ID is ganganam beauty
Cheese in the trap
Police university
Nevertheless

and more i will discuss in the next addition of this post 🙂


What are some romantic school Kdramas?

School romance might seem cheesy to some but we have all watched them right? Here are few of my favourite school romance Kdramas –

Extraordinary you
The Heirs
High school love on
Sassy go go

What is the best Coming of age Kdrama?
Here are some of the best coming of age korean shows –
School 2015
School 2021
Twenty Five Twenty One
Run on
Startup
Weightlifting fairy Kim Bok Joo