Anneyon Chingu-ya !
Korean Fashion is known for its winter style , isn't it ?
Winters are the perfect time of the year to layer up in comfort and coziness.
After taking care of your entertainment needs Koreans are here to help you out with fashion too.
K-pop and k-drama celebrities can be your inspiration to amp up your fashion game in winter .
Korean Fashion Trends In Winter 2022 – Styles To Dress Like K-Pop Stars.
Chunky sweaters, oversized coats, fluffy scarf, and cute boots, is there anything else that screams comfort and style in the same sentence?
Want to dress up like your Korean unnie, or can't get over your favorite k-drama or k-pop star outfits?
Don't worry we got your back.
Check out this list of Korean fashion trends in winter 2022.
Korean fashion trends in winter 2022-23
Turtle neck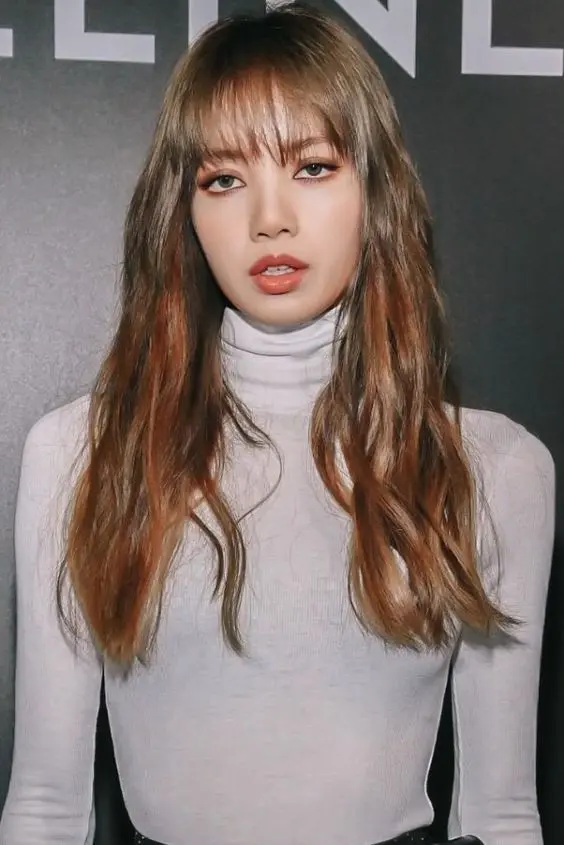 Turtle neck has been in fashion for the longest time, it's still very popular.
It is the most common outfit that Koreans adorn that not only looks chic and elegant but makes you warm.
The close-fitted collar of the turtle neck protects your upper body from piercing cold wind making it a stylish yet versatile must-have for the winter just like Lisa (Blacpink).
Where to wear it?
You can wear turtlenecks anywhere as they are very versatile. It is perfect for winter brunch, an late evening coffee date, or even a casual dinner.
What to pair it with?
You can awaken your inner fashionista by pairing them with trench coats and long boots.
Even a casual turtle neck sweater can give you chick vibes when paired up with jeans and minimal accessories like long necklaces, trendy handbags, and simple earrings.
Where to shop it?
Buy this jungkook-inspired solid blue color turtleneck, from Unnie looks for a refreshing look.
If you like the Lisa turtle neck you can buy the Princessy Long-Sleeve turtle neck sweater from YesStyle.
Envy look turtleneck dress can be a great option for a feminine look.
Trench Coats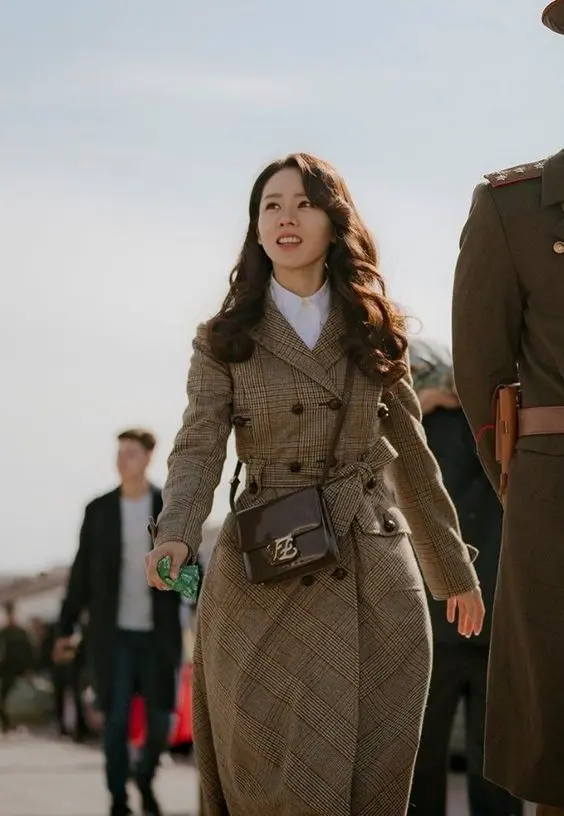 Trench coats are a classy Korean fashion trend in winter 2022.
It has a button-up front and knee-length design that gives you a high-profile sophisticated diva vibe.
Generally worn as an outer layer in winter, they are commonly available in neutral colors making them perfect for professional as well as casual events.
How can we ever get over this iconic look of Son Ye Jin from crash landing on you?
Where to wear it?
Trench coats are perfect for outings in winter, be it casual shopping, or outdoor events. You can wear them at formal events, as they fit well with business as well as informal dress codes. There are highly flexible, you can wear them even in the fall or spring seasons.
What to pair it with?
Trench coats can complement your casual outfits as well as business. Wear it over your dresses, and pair it up with high boots, scarves, or even stockings or hold-ups. For a casual outfit, you can pair it with your regular jeans and T-shirt.
Where to shop it?
You can buy twee new double trench coats perfect for a winter day.
If you are obsessed with Son Ye Jin from crash landing on you check out the Tone Belted Trench Coat inspired by Yoon Se Ri. from Unnie looks.
You can ditch the regular neutral color for a black trench coat like the Naideth trench coat.
Winter dresses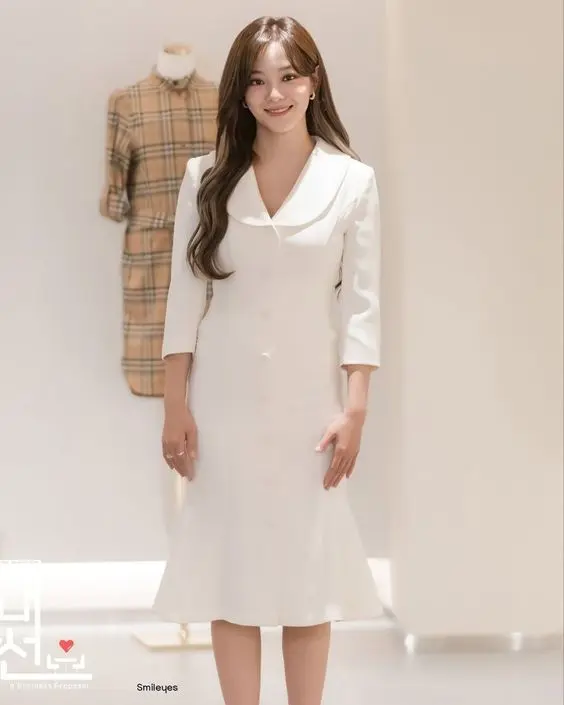 If you prefer not to layer much and avoid baggy clothing, winter dresses are the perfect solution.
The long sleeve, high neck, and above-knee length are exquisite fashion choices for this winter of 2023.
Kim Se Jeong has been gaining a lot of popularity because of her recent drama A business proposal, this outfit is perfect for formal and semi-formal events.
Where to wear it?
It is perfect to wear on dinner dates, and evening back tie events.
What to pair it with?
With winter dresses, there is a lot of room to layer on. You can add trench coats over them, and pair them with thighs or lined leggings to add more femininity to the look. Koreans love scarves with dresses or cute knitted caps or beanies to make it whole look adorable.
Where to shop it?
You can buy a classic white winter dress from Unnie looks, which is an aespa winter V-neck long sleeves dress perfect for winter.
The Genrovia Mini Mermaid-Hem Sweater Dress by YesStyle is a wonderful option.
Kooding also has a wonderful option in winter dresses like dabagirl eros knit dress.
Oversize T and Hoodie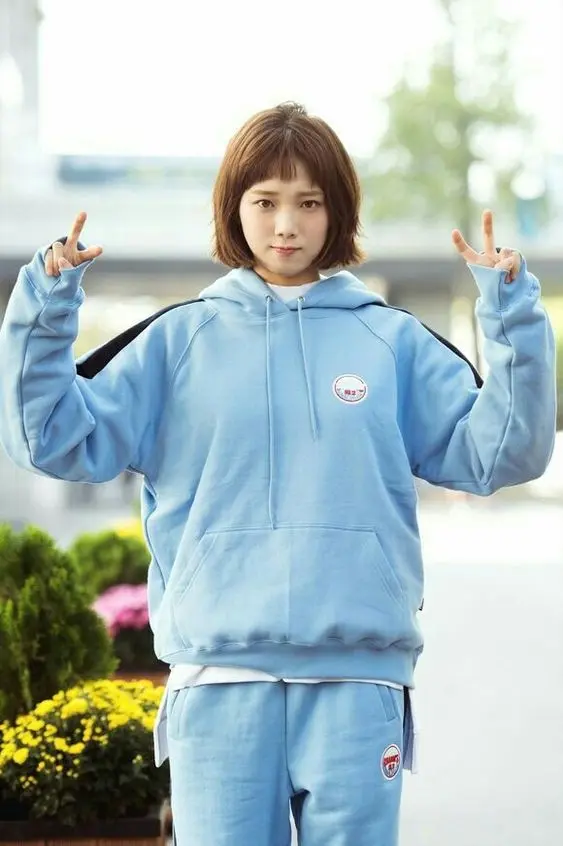 Don't we all adore those cute oversized t-shirts and hoodies that hug you perfectly?
Nothing is more comfortable than wearing an oversized hoodie on cold days.
You can find almost everyone in Korea wearing it casually. Oversized T and hoodies are commonly worn by both Korean men and women in winter as it looks stylish and cute at the same time making it a perfect Korean fashion trend for winter.
This look of Lee Sung-Kyung is a perfect example of comfort and a freestyle attitude to carry this winter.
Where to wear it?
Oversized T-and hoodies are perfect to wear on a casual day to spend with family and friends. You can wear it to school or college, going to lunch and shopping.
What to pair it with?
Koreans complement the oversized hoodies and T with skinny or fitted jeans and boots. They love wearing solid color oversized hoodies in winter making them perfect for a weekend hangout outdoors.
Where to shop it?
Check out this edgy oversized Scribble T-shirt from unnie looks.
The baby blue Hevnir oversized hoodie is perfect for winter afternoon from YesStyle.
The chopper rocket oversized sweatshirt is also a cool choice for a lazy day.
Puffer Jackets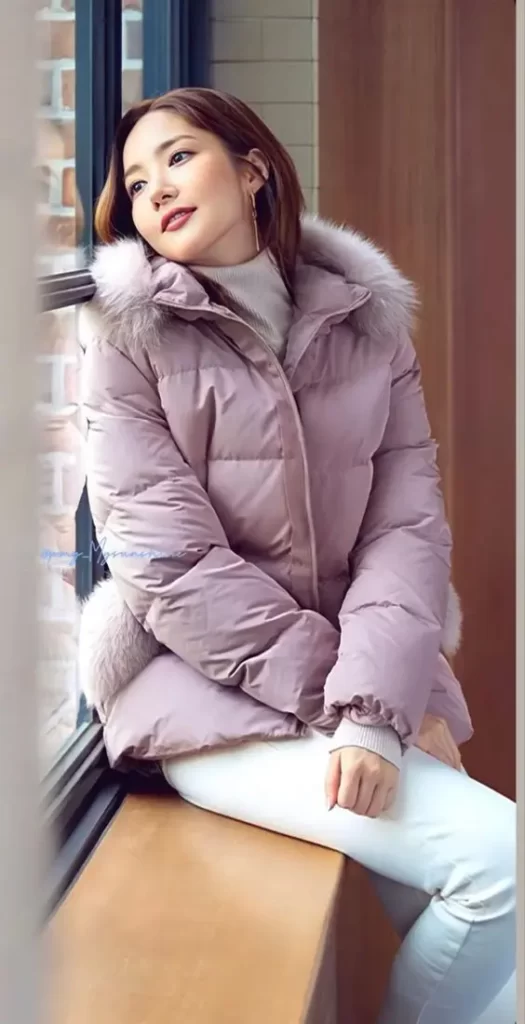 A recent Korean fashion trend in winter that has gotten everyone's attention is puffer jackets.
It is extremely popular among the Koreans living in Seoul to wear them.
You must have seen your favorite Korean celebrities adorn them in between filming. They are very comfortable, and stylish to wear which is very functional to protect them from cold weather.
Park min-young is the ultimate idol for feminine Korean fashion, this puffer jacket is chic, elegant, and comfortable to wear.
Where to wear it?
Puffer jackets are lightweight that can be worn anywhere, Koreans wear them casually while shopping, on outings, lunches, and dinners.
What to pair it with?
Puffer jackets are very functional as it is lightweight, they can be easily layered over tops, dresses, turtlenecks and hoodies, shirts, and sweaters.
You can create a classic look for yourself by pairing it with denim, leggings, and boots.
It can be worn by all genders, even men can wear them over dress shirts creating a gentlemen's look.
Where to shop it?
Check out the glossy grey soyeon-inspired jacket from unnie looks for a glam look.
Yesstyle has a range of cute puffer jackets like the HotBlock zip puffer jacket, Yuki's Plain Zip Puffer Jacket, and Hotarium Plain Zip Puffer Jacket. (
Simple Sweaters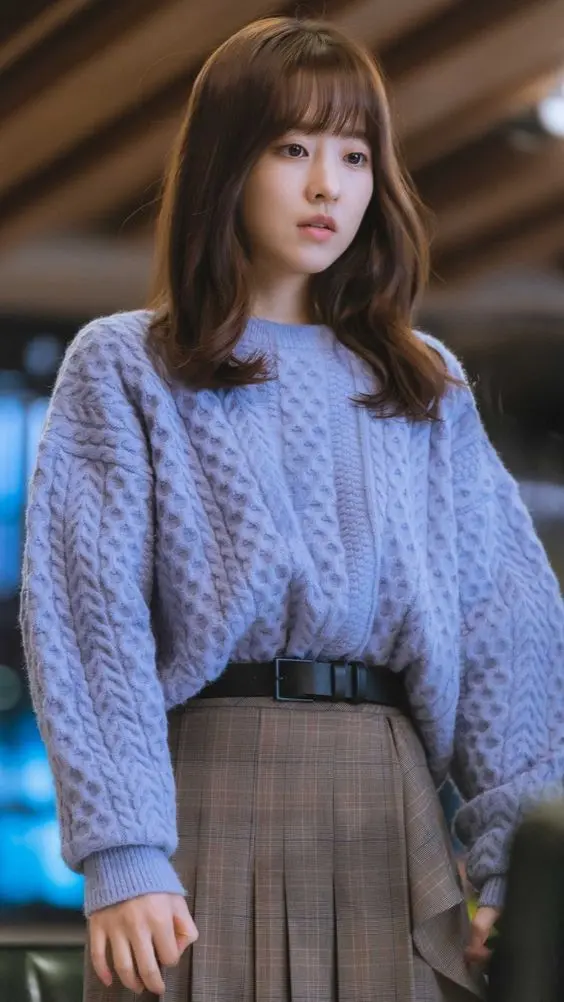 If there is any universal winter clothing it has to be sweaters. Korean simple sweater style is very elegant and gives soft academic vibes.
They can either be croche or knitted in fibers like wool, or cotton.
Cardigans, tunics, and pullovers are basic types of sweaters.
Simple sweaters are the ultimate symbol of comfort yet give a put-together outfit.
Park bo young is among the most adorable k-drama actress, this kind of simple sweater looks so sweet and innocent to wear.
Where to wear it?
Having a simple sweater in your closet can sort you out for several occasions. It is perfect for casual outings, shopping, and even at work.
What to pair it with?
Simple sweaters are very versatile, you can make your style statement by pairing them with pencil skirts and high heels. Hats, scarves, necklaces, pleated skirts, and boots would look very feminine and chic as an everyday outfit.
Where to shop it?
You can add a pop of color to your closet with BTS Jungkook-Inspired Emerald Sweater.
BrickBlack oversized sweater is a good and versatile option to pair with jeans and skirts.
Moon City Cropped Sweater and Roah neck sweaters can be great options to try on.
Choper Knit Cardigan is a good open cardigan that can amplify any outfit.
Baggy Pants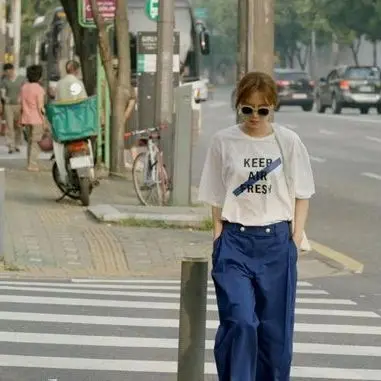 In this list of Korean fashion trends in winter 2022, baggy pants are the eye-catcher.
These semi-structured pants are very flexible to wear. It is perfect for those inclined in loose fits, comfortable and no effort look.
Gong Hyo-jin's baggy pants in It's Okay, It's Love are ultimate comfort wear that looks cool and edgy.
Where to wear it?
Baggy pants can be worn in the daytime, for casual outings, mall hopping, shopping, and even attending last-minute meetings.
What to pair it with?
Baggy pants look good when paired with blazers with loafers for meetings. You can also wear sweaters, tuck in turtle necks and boots, and even heels. Accessories like bangles, earrings, and necklaces.
Where to shop it?
Buy the perfect baggy pants for winter from Kooding's DABAGIRL Aurora Baggy Pants and MOON Side Elastic Baggy Pants similar to Gong Hyo-jin's baggy pants.
Try out Unnie looks BTS RM Inspired Pants and Blackpink Rose Inspired Loose Pants.
If you want a more casual and comfy look YesStyle's BrickBlack Baggy Cargo Pants and Honet Cargo Pants can be good options.
Sweatpants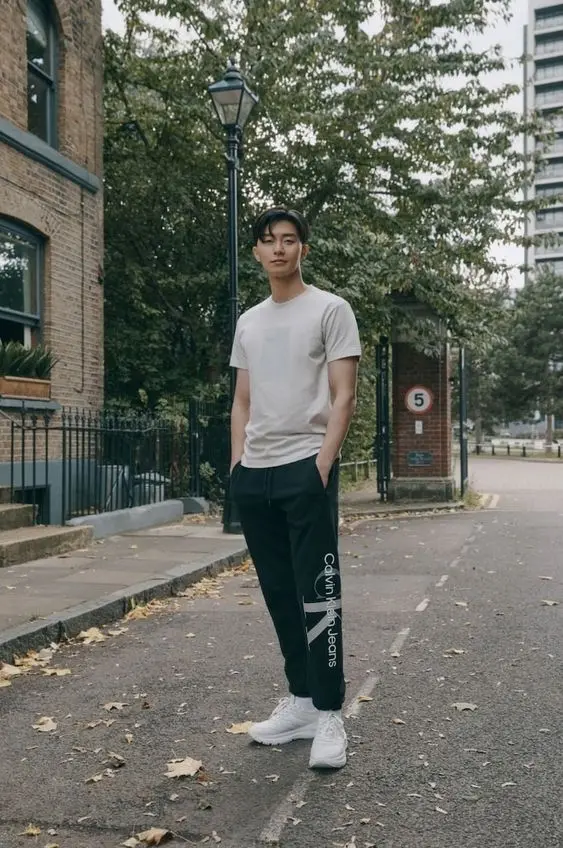 Sweatpants are loose, lower perfect for workouts, or even casual wear.
This is a casual yet trendy Korean fashion trend of 2022.
However, it is important to understand the difference between being too comfortable to step out and being trendy.
Nevertheless, Park Seo-Joon's sweatpants can be a good Korean addition to your closet.
Where to wear it?
It is perfect for a casual day out. If you want to go out shopping, on a coffee date, or a cafe hopping with friends.
Gone are the days when sweatpants were just worn around the house in the past few years it has become a fashion trend.
What to pair it with?
Pairing joggers with shirts, sweaters, and ankle boots will give a casual chic look.
You can also layer it on a shirt with a puffer jacket, sneakers and a tote bag would also look good.
Wear it in a graphic t-shirt with bulky boots it could be perfect for an evening out with friends.
Where to shop it?
Kojasmine Sweatpants and Opuscule Set Hoodie and Sweatpants could from YesStyle is a great option to try.
Mind Bridge Cargo from kooding is perfect for a casual look.
Cottagecore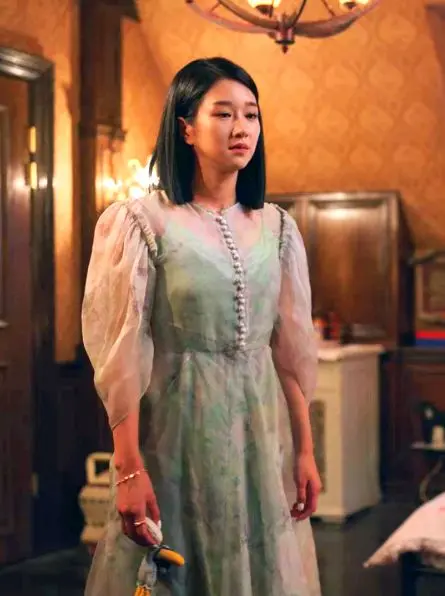 If you are a romantic aesthetic lover and want to feel classic vintage vibes in today's modern world then cottagecore is the answer for you.
The victorian style of flowy dresses, loose-fitting pants, long or puffed sleeves dresses, cardigans, and knitted sweaters has a rustic quality to them.
Korean girls love to dress up in girly, chic, elegant yet playful aesthetics.
Seo Ye-Ji's Cottagecore dress would be a good way of embracing your Hallyu while remaining minimal.
Where to wear it?
Cottagecore is very versatile, it is perfect for a date or family picnics as it gives you a soft and feminine look. Moreover when styled appropriately you can wear them to the office as well.
What to pair it with?
You can pair your cottagecore dresses with vests, in neutral colors. Accessorize them with handbags, and heels for an evening look. Pair the peasant blouses with ripped jeans to create an edgy look.
Where to shop it?
Kawai fashion shop has the best cottagecore collection, you can check out Women's Lolita Puff Sleeved Dress which is extremely feminine and Women's Lolita Chiffon Flounce Princess Dress gives k-drama main character vibes.
If you want a girly look then Kobeque Floral Print A-Line Dress and Sisyphi Mesh Midi Skirt are the perfect options.
Leather and Denim.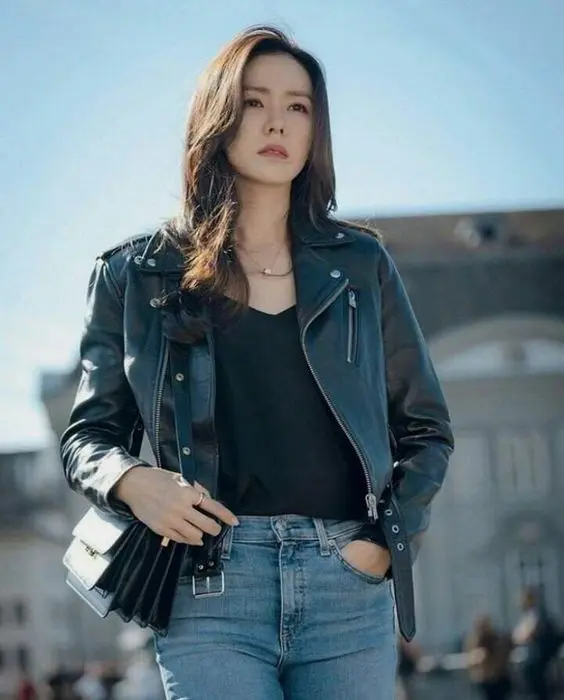 Leather and denim is a classic look that is not new in Korea.
It is common to find men and women sporting this look.
This gender-neutral outfit is easy to create owing to its market availability making it a top choice for Korean fashion trends in winter 2022.
Denim and leather jackets, boots, or pants like Yoon Se Ri will not only protect you from harsh winter but also give you a cool and casual look.
Where to wear it?
It is common to find leather and denim jackets, and pants in every Korean men's or women's closet.
You can wear this stylish yet effortless outfit everywhere, whether it is bar hopping, casual lunches, or dinners.
If you are somebody who is stuck in their business clothes most of the time, then this is a great option for you to break the monotony.
What to pair it with?
Pair up denim jeans with a leather jacket over a simple t-shirt, it is a most effortless, laid-back yet stylish outfit that would make you ready to make the most out of your weekend.
Wear lightweight jackets with leather pants and combat boots to create a rough and roughed biker look.
Women can pair the leather leggings under a winter dress or oversized hoodie with boots making it perfect for winter outings.
Where to shop it?
The YesStyle Real Boy – Faux Leather Button-Up Jacket and JUCY JUDY Belted Eco Leather Dress,
Blackpink Lisa Inspired Motorcycle Jacket and Blackpink Rose Inspired Casual Brown Leather Jacket are perfect for that girl boss look.
If denim has caught your eye then Guromo Oversize jacket to get you comfy and chic at the same time.
Dress in solids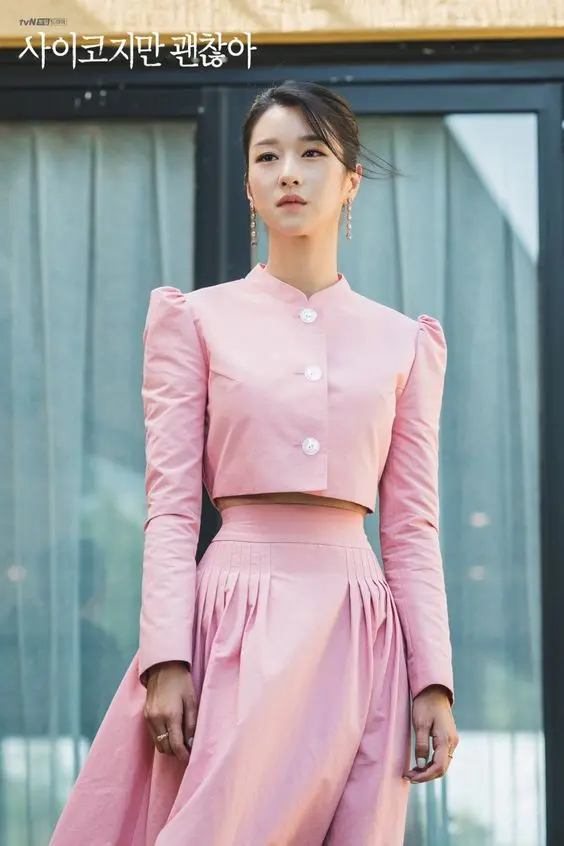 The most exciting Korean winter fashion trend of 2022 is to dress in solid colors.
The lacking designs and pattern outfits will give you that perfect soft academic and innocent look for the winter.
Adding solid colors to your wardrobe would be a great addition and it works well with all body types.
Korean women like to wear a solid color dress that looks adorable with no major effort.
Where to wear it?
Solid color dresses are perfect for semi-formal or even business casual events.
If you have dinner with colleagues, go with solid colors it perfectly manages the balance between professional and casual looks.
Take inspiration from Seo Ye Ji's solid dress and wear it all day alone and look all groomed.
What to pair it with?
You can pair up the solid color dresses with simple necklaces, watches, and stockings with purses to adorn a chic look. Wear a cardigan over your solid color tops and jeans to create a casual look.
Where to shop it?
You can buy Leoom A-line Dress in pink and also Arroba Midi Shirtdress looks very pretty and can be a good semi-formal outfit.
An asymmetrical Crop Top With Skirt Set can be a great addition to your wardrobe.
High boots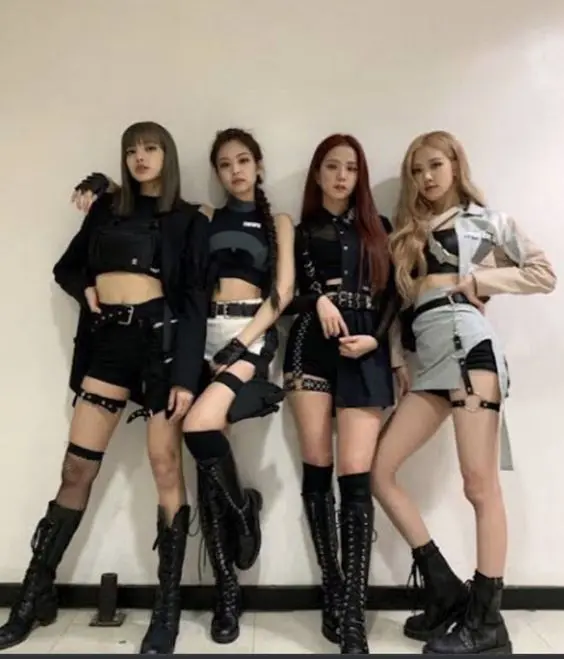 There are many reasons to love Korean celebrities, and one of them is the high boots trend.
High boots are warm and comfortable and at the same time look very stylish.
Wearing high boots like Blackpink in winter amplifies the outfit and allures high power, Girl boss attitude.
Where to wear it?
Korean people like to wear them everywhere as it complements all kinds of outfits.
You can wear them for shopping with friends, at work and also at night-outs this winter.
What to pair it with?
High boots are very versatile to wear in winter, pair them with dresses, denim, skirts, or with leggings, it fits right with all kinds of outfits.
You can wear them with skinny jeans, and leather jackets with tops underneath for casual outings. Glam up the look by pairing high boots with a trench coat and sunglasses.
Where to shop it?
Pull that Lisa and rose-high boots to get that edgy and cool attitude, Women's High Boots.
Try these clog & wings Pointed Boots for a glam night-out look.
Animal prints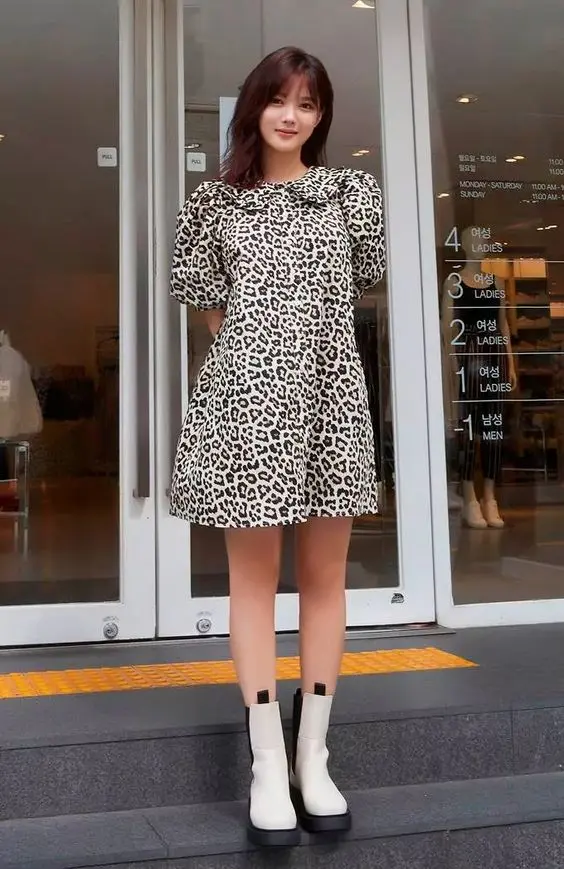 Owing to the Korean winter fashion trends of 2022, animal prints are making a comeback. Animal print has been an inspiration for fashion designers and enthusiasts for the longest time.
It is common to find animal print dresses, jackets, trousers, and scarves in Korea.
Generally, tiger, cheetah, zebra, and giraffe, are the most popular patterns in animal print.
This winter is the right time to experiment with animal print and up your fashion game.
Where to wear it?
You can wear animal print dresses like Kim Yoo Jung at night outs, dinners, and evening events. If you are wearing it with jeans and sweaters it is appropriate to wear them at brunches and coffee dates.
What to pair it with?
The trick to pairing animal print is to avoid wearing it fully from head to toe. It is appropriate to add a dress and layer it with a solid color cardigan, jacket, or even coat. You can try an animal print beanie with denim and a jacket or a leopard print dress with heels or high boots for an evening look.
Where to shop it?
Sinora Crop Tank Top, Blackpink Jisoo Inspired Jacket, and Blackpink Lisa Long Sleeve can be a perfect choice to try out the animal print.
Knit vests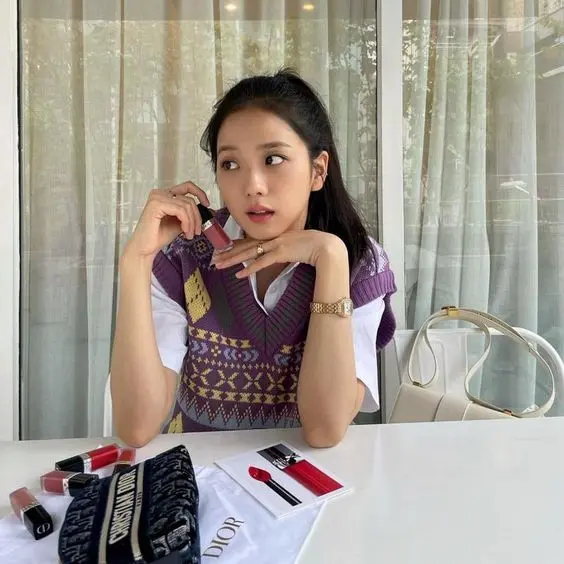 Gone are the days when knitted vests were only worn by teachers and professors.
Korean celebrities have made it classy knit vests look. Irrespective of your gender a good knit vest can give you an ultimate good girl or boy day look.
If you are obsessed with Korean back-to-school looks or love the school k-dramas, the knit vest like Jisoo can make your winters more dreamy.
Where to wear it?
Knit vests are most appropriate for a day look. If you are going to the library for an afternoon study session to follow up with coffee with friends, knit vests are perfect.
You can wear them to movies, hang out with friends, attend classes, or go for walks.
What to pair it with?
Knit vests look adorable while paired with a cute dress with boots. You can layer them over tops or blouses with skirts and stockings to create a cute girl outfit look.
Where to shop it?
You can buy Blackpink Jisoo Inspired Purple Mid-Length Knitted Vest, Blackpink Lisa Inspired Pink Knitted Three-Color Vest and a Black And White Blackpink Jisoo-inspired Geometric Knitted Vest from unnie looks.
Also, Duwnie – Button-Up Balloon-Sleeve Blouse is a great option.
Blazers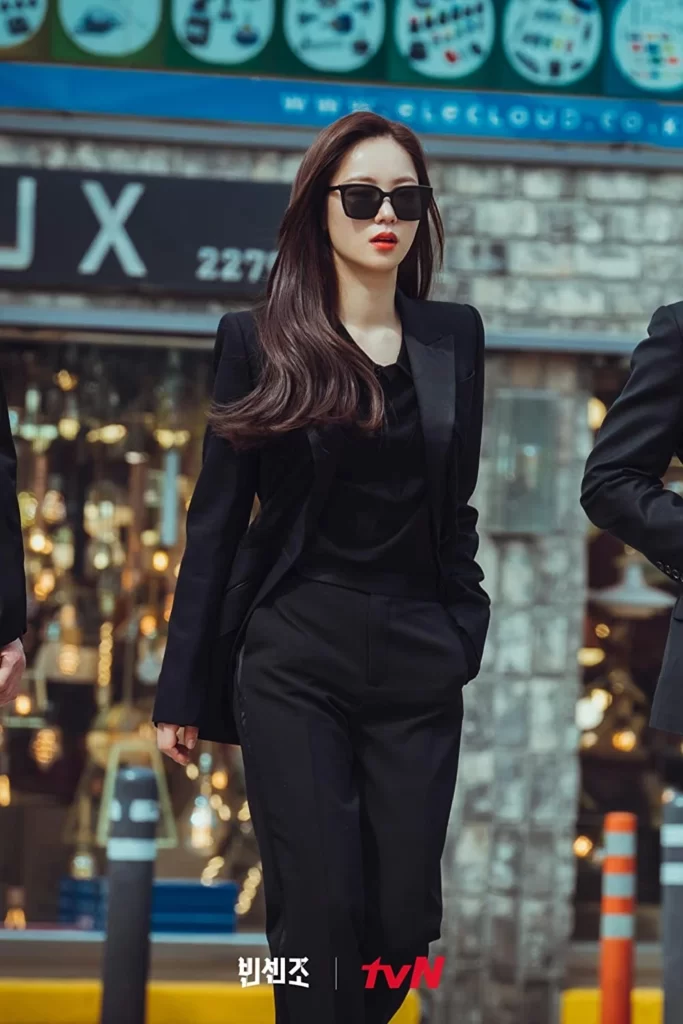 If you like a neat and defined look blazers would be an appropriate choice for you.
Blazers distinguishes themselves from coats and sweater and gives a formal appearance.
Blazers can be worn by all gender to polish and add that timeless quality to your daily outfits in winter 2023. Korean loves wearing blazers in neutral and solid colors during winter.
Where to wear it?
Blazers are perfect for a professional look. You can wear a blazer like Jeon Yeo-been to business events, semi-formal events, and lunch with work colleagues.
What to pair it with?
You can pair them with matching trousers for work. Pair it with skirts and take the full feel of a business executive running off to take over a board meeting.
You can pair them with a simple white T-shirt and jeans or leggings in winter.
Where to shop it?
Check out the LAGIRL No Collar Modern Padded JACket, and Double Breasted Blazer that not only looks classic but also very formal.
Winter blouse with collar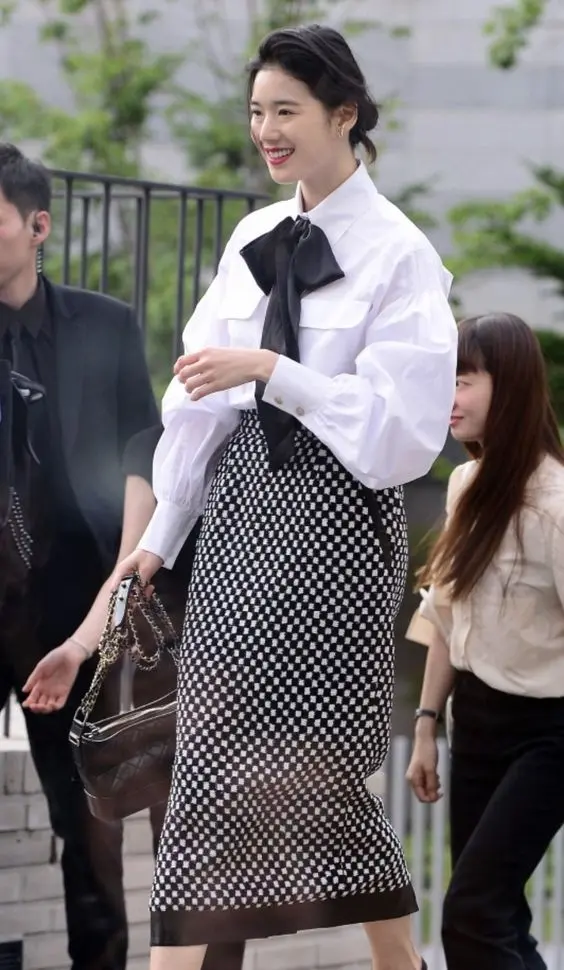 If you love that soft feminine academic look, then definitely try the winter blouses with collars. The collars give a modest look to the fitted blouse.
Winter blouses are very popular among Korean girl as it is comfortable and warm and at the same time very versatile to pair with other clothes.
Where to wear it?
Winter blouses with collars can be worn any time of the day, whether it is a birthday party you want to attend this winter or a day event at the office.
Jung Eun Chae's winter blouses would be the trustworthy choice that can save you to attend an unexpected event.
What to pair it with?
Pair up your winter blouses with jeans and boots for a casual look. You can also wear it with skirts and stockings to create a stylish look. Layer your winter blouses with trench coats, jackets, and even cardigans.
Where to shop it?
Try out the Tangihouse – Long-Sleeve Peter Pan Collar Frilled Blouse, and also JUSTONE Ribbon Neck Lace Collar Check Blouse and Collared Contrast Blouse With Buttons looks very cute.
Final Thoughts
The Korean fashion trend in winter , can be your inspiration to ditch boring clothes and experiment with new styles while keeping yourself warm and comfortable.
Following mentioned fashion trends can be a game-changer for you this winter. So attend those, parties, classes, or meetings in style.
Fashion trends are very important in Korean culture so this winter finds your k-style and presents your best version to the world.
So, from now don't just admire your favorite Korean celebrity from afar, take inspiration from them and live your best life while being fashionable.
Saranghae
Your chingu…
Kdropper !
MUST READ :
8 Korean Summer Fashion Trends of 2023
9 Korean SPRRING Fashion Trends of 2023
7 New Korean Street Fashion Trends in 2023? 
11 Best Rom-Com Kdramas of 2022
25 Best international shops for Korean fashion
FAQ "Korean fashion trends in winter 2022"
Are these Korean winter fashion trends appropriate for men to wear?
Yes, most of these Korean winter fashion trends can be worn by males as well.

Are these clothes of Korean winter fashions available in online shops?
Yes, you can buy the mentioned clothes from the links available.

Are these Korean winter fashion female trends comfortable to wear?
Yes, females can wear these clothes and keep up with the Korean winter fashion female trends while being warm and comfortable.

Is the Asian fashion trend of 2022 the same as the Korean fashion trend of 2022?
Korean fashion trends in recent times have influenced a lot of Asians to dress a certain way, but they are not the same.